WWf(a)C Welcomes Author Maggie Smith
Women Writing for (a) Change is pleased to welcome
Maggie Smith for two very special events.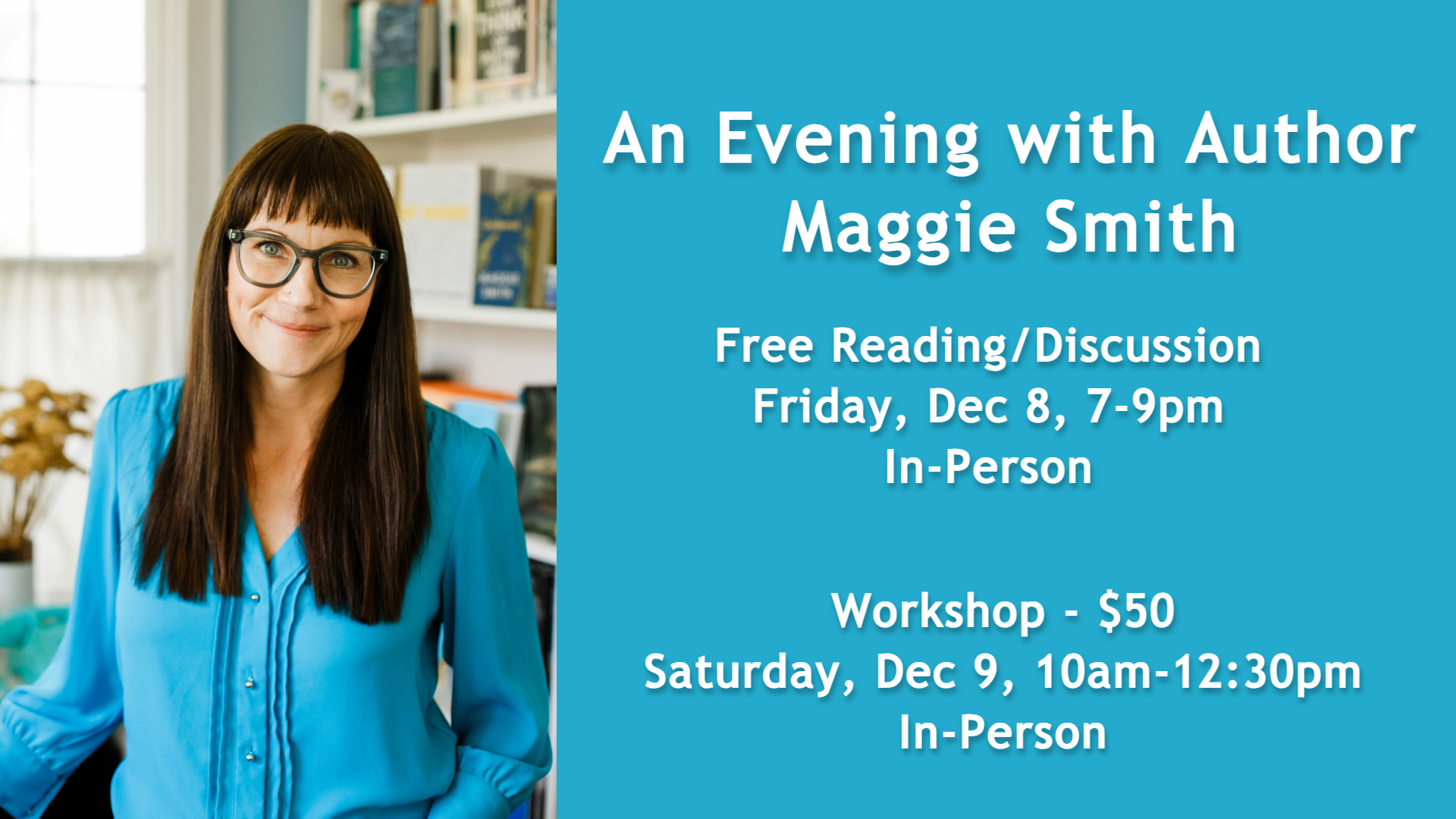 An Evening with Author Maggie Smith
Friday evening, Dec 8, 7-9pm -- Free (Donations kindly accepted)
In-Person
Ohio's own Maggie Smith will read from and discuss excerpts from her body of work, including her New York Times best-selling memoir, You Could Make This Place Beautiful. A Question & Answer session will conclude the reading, followed by a book signing. Maggie's titles will be available for sale by our friends at The Bookshelf in Madeira. This event is open to all, 16+.
Poetry & Memoir Reading from 7-7:45pm
Audience Q&A from 7:45-8pm
Book Signing from 8-9pm
All tickets are General Admission Seating. Tickets are not available at the door. Doors open at 6:30pm. This is a free event but donations that support the work of Women Writing for (a) Change are kindly accepted.
With gratitude to the following donors who helped make this event possible: Annette Januzzi Wick and Mark D. Manley; Elizabeth and Brian Mannion; Ellen Austin-Li and Jolly Li; Laurel and Jerry Chambers; Tina Neyer; and an Anonymous Donor.

Writing from Memory with Maggie Smith
Saturday In-Person Workshop -- $50 per person
Dec 9, 10am-12:30pm
In this generative workshop, we'll work on creating art from life, using our memories as material. How do we get to the heart of a lived experience on the page? How can we feel comfortable and confident sharing our personal lives with a public audience? What form may work best, and what craft elements can we lean on? If you've ever asked yourself these questions, this workshop is for you. We'll discuss model poems and short pieces of creative nonfiction, and we'll use those models as inspiration as we begin our own pieces.
Payment due at time of registration. Limited seating. No refunds for cancellations.
Maggie Smith is the author of six award-winning books: You Could Make This Place Beautiful, Lamp of the Body, The Well Speaks of Its Own Poison, Good Bones —named by the Washington Post as one of the Five Best Poetry Books of 2017— Keep Moving, and Goldenrod. The title poem of Good Bones was called the "Official Poem of 2016" by Public Radio International and has been translated into nearly a dozen languages. Smith's poems have appeared in the New York Times, Tin House, The Believer, The Paris Review, Kenyon Review, Best American Poetry, and on the CBS primetime drama Madam Secretary. A Pushcart Prize winner, Smith has received fellowships and awards from the National Endowment for the Arts, the Academy of American Poets, the Ohio Arts Council, and the Sustainable Arts Foundation.

(Photo ©Devon Albeit Photography)