Wine, Words & You - A Virtual Event
Saturday, October 23rd, 7pm PURCHASE TICKETS

Join us for this virtual event and week-long online silent auction!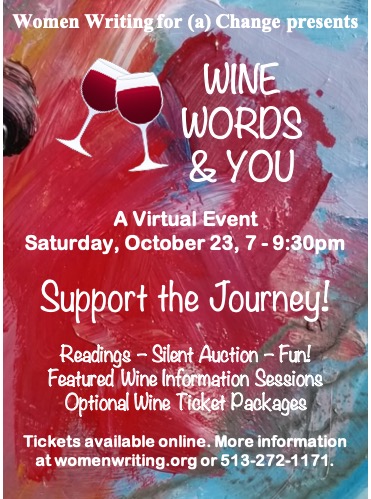 This virtual event has something for everyone! In addition to readers from the WWf(a)C community, there is a presentation on the selected event wines, social and game breakout rooms and silent auction shopping!
Readings by writers from the Women Writing for (a) Change community will take place at approximately 8pm ET.
Event Wine Information Sessions by Richard Goering focus on the featured event wines and their growing regions. Sessions include brief time for Q&A.
Select event wines:
Oro Bello 2018 Chardonnay
Northern CA
Craggy Range 2020 Sauvignon Blanc
Martinborough Te muna, New Zealand
Borne of Fire 2018 Cabernet Sauvignon
Columbia Valley, WA
Luca Laborde Double Select Syrah
Uco Valley, Mendoza, Argentina
Durigutti Cabernet Franc
Lujan de Cuyo, Mendoza, Argentina
Click here for Ticket Pricing and Information. A limited number of tickets at various pricing/ support levels includes wine for pick-up, wine and food bites for pick-up, and even delivery for Patron and Sponsor levels!
Participate in Social and Game Breakout Rooms and Silent Auction Shopping Time! Breakout Rooms allow time for fun with other attendees and time to shop at the silent auction.
Online Silent Auction - Find the link here when the silent auction begins on 10/15/21 at 4PM!
The Silent Auction will be held on the Accelevents online platform and will be a separate log-in from the 10/23 Zoom Wine, Words & You event. It will begin the weekend prior to the event, for your bidding pleasure!
NOTE: Some of our event information stated the wrong month for the event. The dates listed here are correct! Thanks for your understanding.
Silent auction item listing--coming soon!
All proceeds to benefit Women Writing for (a) Change, a 501(c)3 nonprofit organization in Cincinnati, OH.
Gratitude to event co-chairs Carol Walkner and Karen Arnold, and committee members Cathy DeFoor, Anita Raturi, Lynne Reckman, Mary Wood-Constable and Linda Wulff.