Synergies of People & Place: A Reading & Workshop with Yalie Saweda Kamara (In-Person)
Join us in-person from 10am - 1:30pm on Saturday, July 29th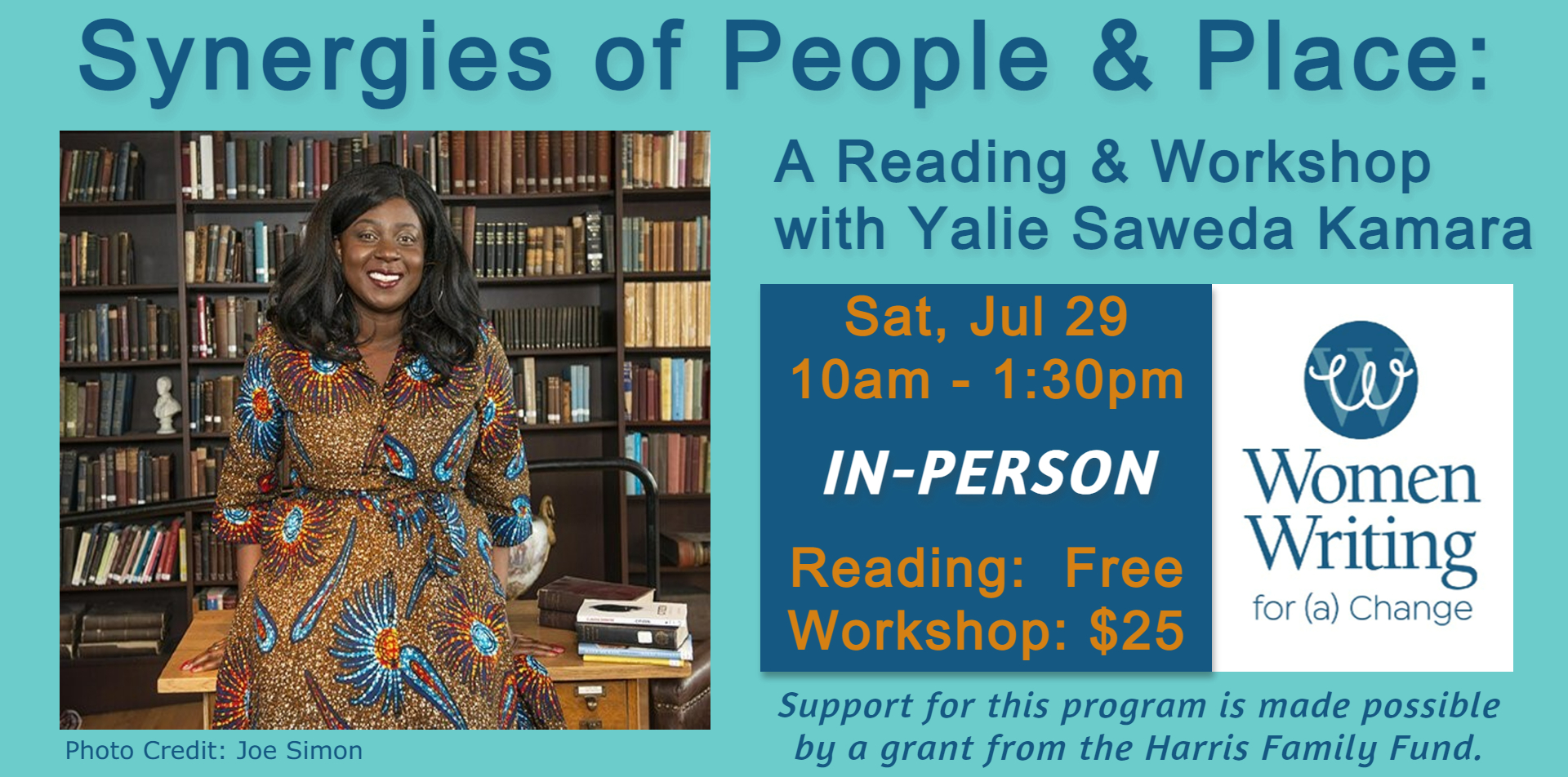 Listen to and engage with honored guest Yalie Saweda Kamara, current Cincinnati and Mercantile Library Poet Laureate. Following a reading of her collection of poetry--both published and soon-to-be published--Yalie will lead participants in Synergies of People & Place: A Writing Workshop. Who were we, who are we, and who will we be by virtue of movement? Through discussion and examinations of poetry, moving and still images, and music, this generative writing workshop considers the ways in which migration and location inform our identities and how our presences conversely impact the spaces we frequent, encounter, or inhabit.
In-Person on Saturday, July 29:
10-11:30am - Reading and Q&A with Book Signing (FREE)
11:30am-12pm - Intermission
12-1:30pm - Workshop ($25 -- Limited Capacity)

Open to All Genders 18+
Masks available at the event
Support for this program is made possible by a grant
from the Harris Family Fund.
Yalie Saweda Kamara is a Sierra Leonean-American writer, educator, and researcher from Oakland, California. Selected as the 2022-2023 Cincinnati and Mercantile Library Poet Laureate (2-year term), she is the editor of the anthology What You Need to Know About Me: Young Writers on Their Experience of Immigration (The Hawkins Project, 2022) and the author of A Brief Biography of My Name (African Poetry Book Fund/Akashic Books, 2018) and When the Living Sing (Ledge Mule Press, 2017). Winner of the 2023 Elizabeth Alexander Award for Poetry and 2022-2023 Jake Adam York Prize, her forthcoming debut full-length poetry collection, Besaydoo, will be published by Milkweed Editions in 2024. Kamara earned a Ph.D. in Creative Writing and English Literature from the University of Cincinnati. She resides in Cincinnati where she is the Director of Creative Youth Leadership at WordPlay Cincy. This fall, she will join the English Department of Xavier University as an assistant professor. For more visit her website: www.yaylala.com.
(Photo Credit: Joe Simon)