Roots and Wings: Celebrating 30 Years of Women Writing for (a) Change-Now a hybrid event!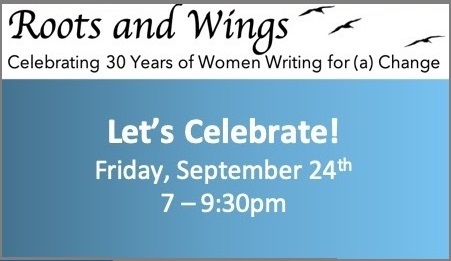 You are invited! Now a hybrid event.
You may register either to attend in-person, or to attend a portion of the event
virtually, on Zoom.
Join us on September 24th to celebrate this community that has inspired, enriched and transformed so many of our lives since 1991. Let's honor the journey of these writing circles through the years, including youth programs and outreach into the broader community.
In addition to gathering and catching up, see photos of the early years of WWf(a)C. From 8:00-8:30 pm ET hear brief words from those involved in all facets of WWf(a)C through three decades, and looking forward to the future.
FOR VIRTUAL ATTENDEES: You may log into Zoom at 7:45 pm ET to view the photo slide show, followed at 8:00 pm ET by the program of speakers. You will receive your Zoom link on the day of the event, via email.
Whether you are new to these writing circles or participated years ago, come find your friends--past and present! There is no charge to attend this celebration.
In-Person Attendee Covid Safety Protocol:
All In-Person attendees must provide proof of vaccination within three (3) days of registration in order to ensure your spot. Please email a photo of your vaccination card to vaccines@womenwriting.org. Your vaccination status will be kept confidential and on file with the office. Please note that if you have already provided your proof of vaccination in order to attend a class, you do not need to send it again. In addition, masks will be required, and will be available at the event. Due to this protocol, only one ticket per person may be reserved. Light refreshments will be available at the end of the event.
This policy is subject to updates as Covid rates increase and/or Ohio or CDC recommendations change. Our goal is the safety of all.
REGISTER HERE (you will be redirected to EventBrite).
(Bird image by Gordon Johnson via Pixabay)