V-DAY 2021: RAISE THE VIBRATION
Facilitator:

EVENT
Date:

02-20-2021

Time:

7:00 pm ET to 9:30 pm ET

Tuition:

$20.00

Open to:

All Genders 18+
V-DAY TICKET HOLDERS--Your V-Day Zoom link is in your email. Please check your Spam and Promotions folders if you don't see it. Thanks!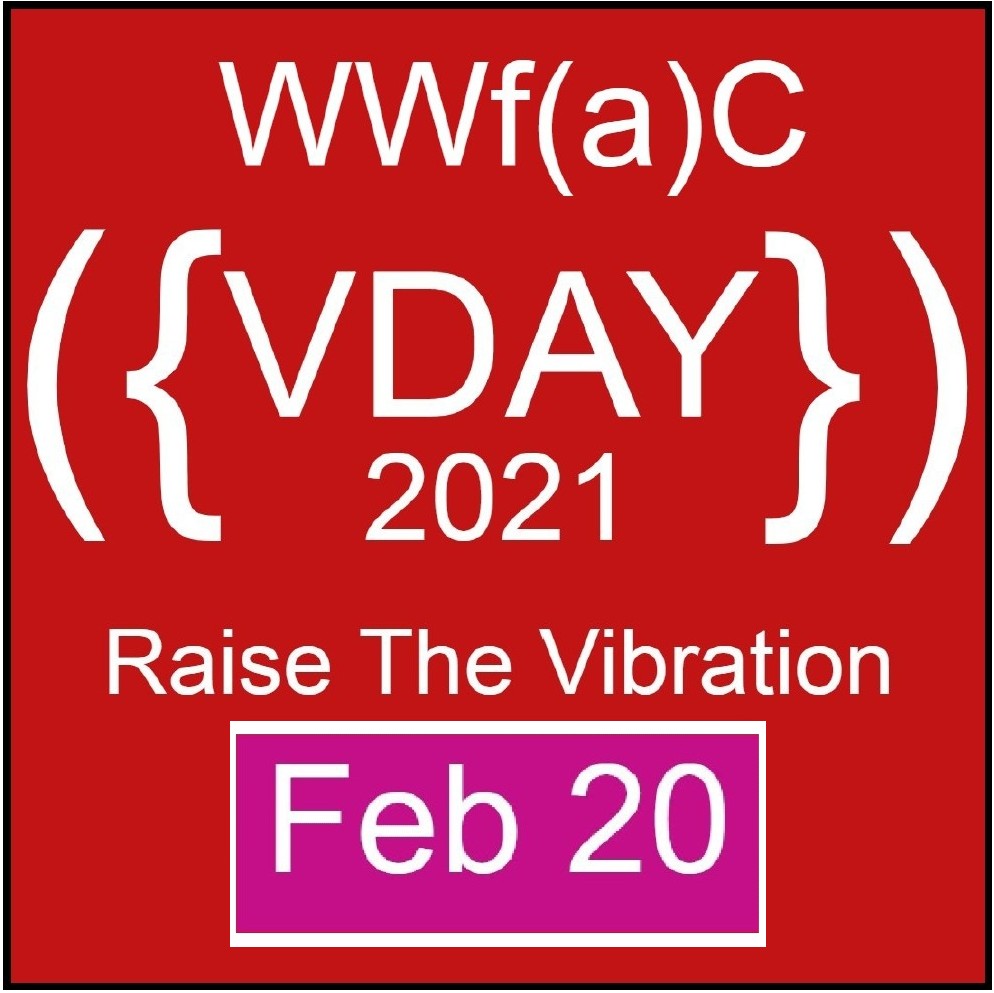 Saturday, February 20th, 7:00 - 9:30 pm ET
Held virtually on the Zoom platform
Admission: $20
Open to All Genders, 18+
Join us as we present our 9th annual V-DAY: Raise The Vibration event and stand up against gender-based violence.
Show your support for members of the WWf(a)C and Greater Cincinnati community as they share poetry, essay, letter, memoir, humor and musical pieces reflecting the lived experience of the author. These readings will both celebrate our sexuality and enjoin us to fight harassment, abuse, and violence.
This year's V-DAY event will be presented virtually, for one night only, on February 20th from 7:00 to 9:30 pm ET. We hope that you'll join us for these remarkable performances, featuring:
Mary Pierce Brosmer | Rick Delewski | Ashley Ferguson | Chris Fishel | Autumn Francisco | Diane Germaine | Elena E Green | Jenn Guthrie | Hannah Kelling | Maureen Martin | Karen Novak | Anita Raturi | Jayne Ruble | Rowe Schnure | Roberta Schultz | Josh Scott | Kimberly Sullivan | Ginny Taylor | Tina Westerkamp | Dick Westheimer | Holly Williams | Amuna Yisrael
By supporting WWf(a)C V-DAY 2021, you bring awareness, energy, and support to the fight against gender-based violence around the world and in our own communities. Proceeds from this event will directly benefit programs, including writing circles, to help survivors of abuse in the Greater Cincinnati area.
**Zoom link will be emailed to you closer to the event date. Please note that as this is a special event to support survivors of abuse, we are not able to refund your ticket purchase if you are unable to attend. Thank you for your understanding.**
For more information about the V-DAY Organization please visit vday.org.
If you wish to make a donation to purchase tickets for those otherwise unable to attend, or for programs that support survivors of abuse, we are grateful for the extra support. Please click here to donate online or mail to WWf(a)C. Please NOTE the purpose of your donation ("V-DAY") on your check or the online donation comment box. Thank you!
Our mailing address is:
Women Writing for (a) Change
6906 Plainfield Road
Cincinnati, OH 45236
Location & Special Instructions
Women Writing for (a) Change
via Zoom