Summer Camp 2022 Grades 7-9 - IN-PERSON!
Facilitator:

Keegan Sullivan & Pam Temple
Date:

06-13-2022 to 06-17-2022

Time:

10:00 am ET to 4:00 pm ET

Tuition:

$275.00

Open to:

Young women, non-binary, and trans youth of all genders in Grades 7-9.
Look up and get lost...you may find your compass among the stars.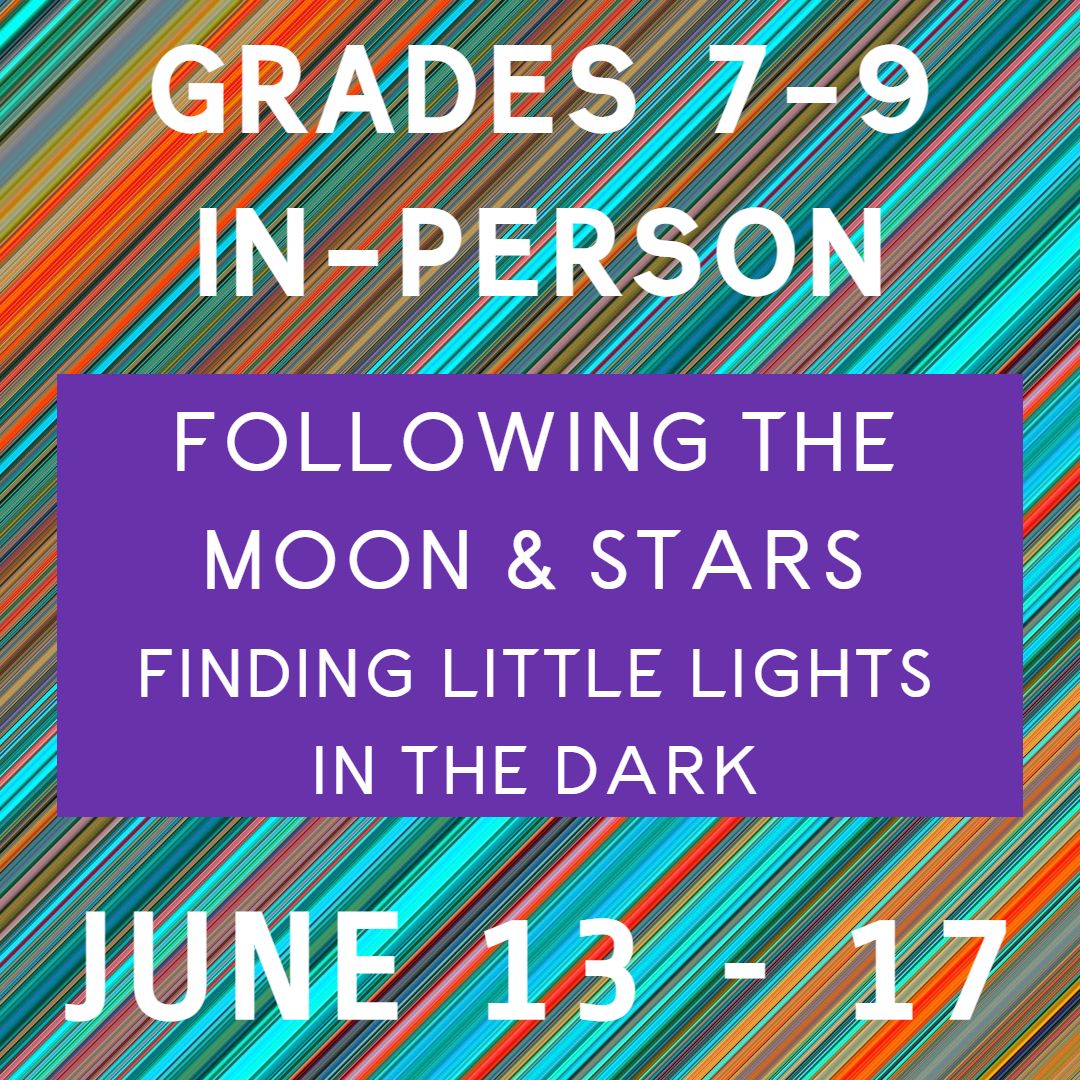 As we move from darkness into the light and back again, we are looking forward and up, inward and outward. Who is reflecting light back? What inner light illuminates your path? What highs and lows might you be reaching? Instead of looking restlessly for the light, sometimes it helps to settle into the darkness. Could it be that this darkness can point us, if we pay attention and are patient, toward a better way? Let's explore our light and darkness and what they each reveal. Let's honor our inner light, learn what nourishment and wisdom we may find in the dark places, and how to balance one energy with another.
Our week-long summer camps, for young people in 4th-12th grades, combine the art of writing and other modes of artistic enrichment to enhance self-esteem and build skills in creative self-expression. Programs are designed to help strengthen participants' authentic voices, develop their ability to speak out through writing and community-building, and deepen their belief in their own creative intelligence.
Our camps are open to young women, non-binary, and trans youth of all genders.


COVID-19 PROTOCOL: Proof of vaccination is required* in order to attend this camp and must be received prior to the first day of camp. You may email a photo of your camper's vaccination card to vaccines@womenwriting.org. Their vaccination status will be kept confidential and on file with the office. Please contact our office at vaccines@womenwriting.org if your camper has a medical exemption. In addition, masks are required indoors and will be available at camp.
*If your camper has provided their proof of vaccination in order to attend a previous class, camp, or event with Women Writing for (a) Change, they do not need to do so again.


SUMMER CAMP 2022 PAYMENT & REFUND POLICY

: In order to reserve your place, a deposit of $75 is required at the time of registration. Full payment for the program is due within 30 days of the first day of camp. Scholarships are available (see below).

In the event a class is cancelled or rescheduled due to lack of enrollment, students will be notified as soon as possible and will be given the option to receive a full credit for a future class or a full refund. All credits must be used within one (1) year of receipt.
(Image by 8926 via Pixabay)
Location & Special Instructions
Women Writing for (a) Change
6906 Plainfield Road
Cincinnati, OH 45236
Scholarships
Scholarships in varying amounts are available for our programs depending on need and availability of funds. If you would like to apply for a scholarship for one of our classes, click here to download our PDF application. Call 513-272-1171 if you have further questions.
Please include your contact information and the class you are interested in taking. Thank you!