Exploring the Polyvagal Theory through SoulCollage® & Writing - VIRTUAL
Facilitator:

Amy Sullivan
Date:

10-17-2021 to 03-20-2022

Time:

10:00 am ET to 1:00 pm ET

Tuition:

$275.00

Open to:

Women
Registration will remain open until Noon on Oct 13 for LOCAL participants in the Cincinnati area who are able to pick up supplies in-person at our location, Women Writing for (a) Change,
6906 Plainfield Rd, Cinti, OH, 45236. (We are in Silverton, on the corner of Plainfield and Montgomery).
In order to have supplies in hand for the first class, pick must occur by Friday, Oct 15. Office hours are 11-5 Mon, Wed, Thu & 12-5 Fri (closed Tue). Please call us at 513-272-1171 to schedule pick-up! Thank you!
Limited scholarships available. No discounts.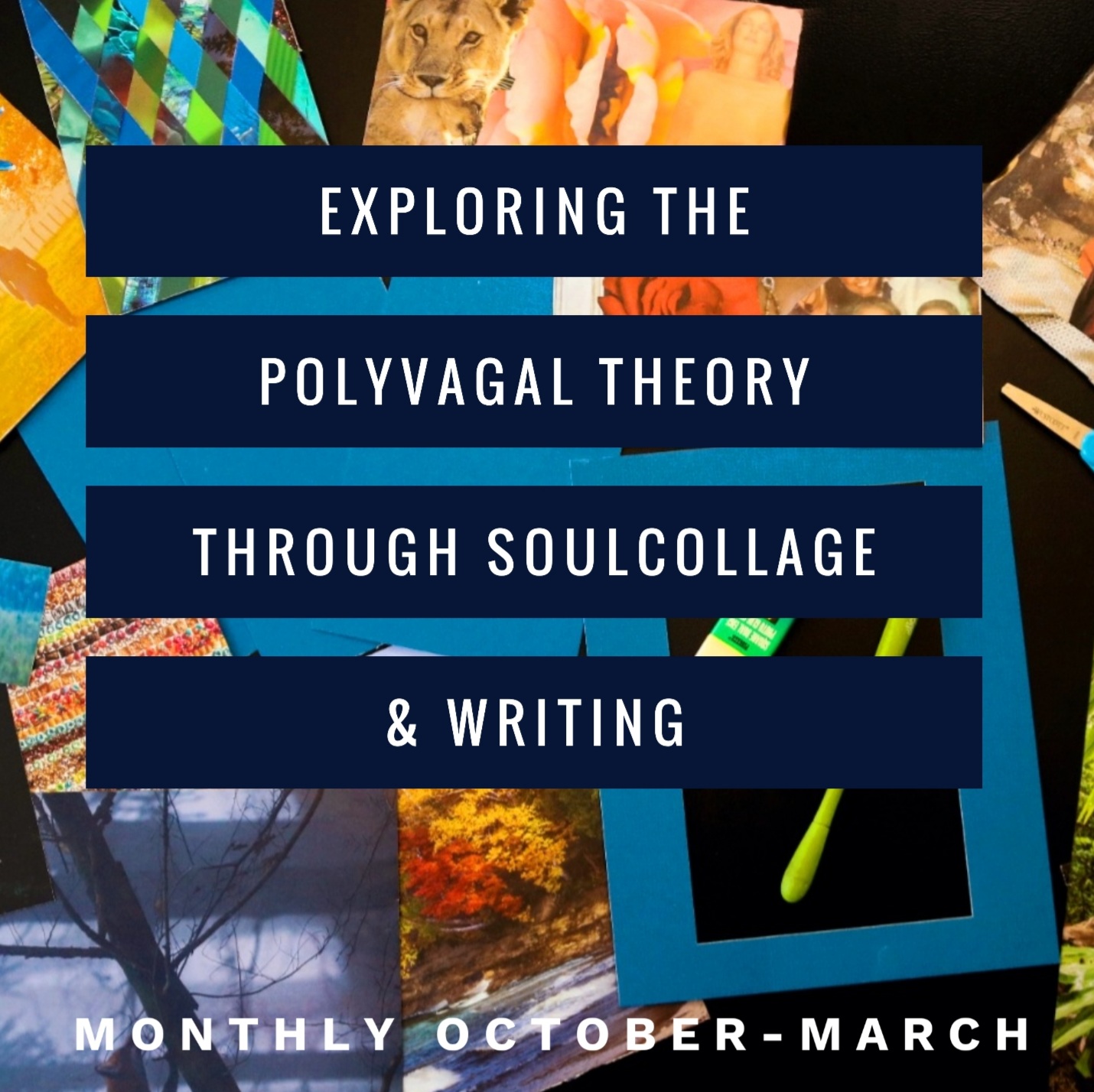 This six-class series allows us the opportunity to dive more deeply into understanding ourselves, others, and the world around us. Through The lens of the Polyvagal Theory, we will use art and writing to explore how we know what we feel, why we act the way we do and how to deepen our relationships and experiences in our lives. In each class, we will explore different concepts related to the Polyvagal Theory including:
What is your sense of felt safety?
How do you flee, fight or freeze?
What does stillness in peace look like for you?
How do you utilize my creativity well?


Sunday, October 17, 2021 SoulCollage®
Sunday, November 21, 2021 Writing Circle
Sunday, December 19, 2021 SoulCollage®
Sunday, January 16, 2022 Writing Circle
Sunday, February 20, 2022 SoulCollage®
Sunday, March 20, 2022 Writing Circle
**Please note that this series will be held via Zoom online conferencing. Your facilitator will provide specific details regarding this online community prior to the start of class.**

SoulCollage®:
As a SoulCollage® Facilitator, Amy guides participants in the process of creating intuitive visual cards that represent different parts of us and people who have influenced our lives. In creating the cards, we learn more about our lives, ourselves, and our purpose. It is fun, relaxing, and uplifting.
**Upon registration, you will receive a packet of supplies for SoulCollage® including images, cards to collage on, and plastic sleeves to protect your finished SoulCollage® cards. We also encourage you to begin collecting specific images you think you may want to use.
SoulCollage® is a creative collage process for:
Self-discovery, self-acceptance, and personal empowerment.
Embracing one's intuition and unique creativity.
Promoting inclusive, diverse, cooperative community for mutual encouragement.

Writing Circle
Reflective writing, what some may call journaling, can be therapeutic; research during times of transition; healing; and a way to discover things about ourselves we did not know. As much as healing and recovery happens in relationship to others, there is benefit to exploring our thoughts and feelings independently.
Writing gives us the opportunity to express ourselves, deciding later what is shared and when. Writing is a place to meet ourselves without the influence of others, without wanting to say the "right thing" to please or connect to another. Many people find they can write what they can't say.

Amy Sullivan: For a decade, Amy has been studying the Polyvagal Theory (PVT) and currently works with The Polyvagal Institute as a Consultant. The PVT provides a framework to help us understand our emotions more clearly and the need for social interaction and connection. Through Amy's deep understanding of the PVT, she has created this series of classes to help individuals understand themselves, others, and the world around us more deeply.
As a facilitator of writing circles, Amy brings a love of writing as well as knowledge and experience in guiding others to write for self-discovery and healing. Amy is a 2019 graduate of the Conscious Feminine Leadership Academy offered by Women Writing for (a) Change, where she developed skills to facilitate writing circles and brings these skills and this knowledge to the counseling process. Amy believes writing does not have to be grammatically correct with proper spelling or even legible. Amy knows, through personal experience, that writing can be healing, illuminating and incredibly helpful.
(Images by Amy Sullivan)
Location & Special Instructions
Women Writing for (a) Change
via Zoom
Scholarships
Limited scholarships available.
Scholarships in varying amounts are available for our programs depending on need and availability of funds. If you would like to apply for a scholarship for one of our classes, click here to download our PDF application. Call 513-272-1171 if you have further questions.
Please include your contact information and the class you are interested in taking. Thank you!