Winter Retreat 2024: Our Bodies, Our Stories
Facilitator:

Janie Baer & Pam Temple
Date:

02-18-2024 to 02-21-2024

Time:

3:30-4:30 pm (Sunday) to Approx 11:30 AM (Wednesday)

Tuition:

$435.00

Open to:

Women and Non-Binary Adults
Our Bodies. Our Stories
February 18-21 | $435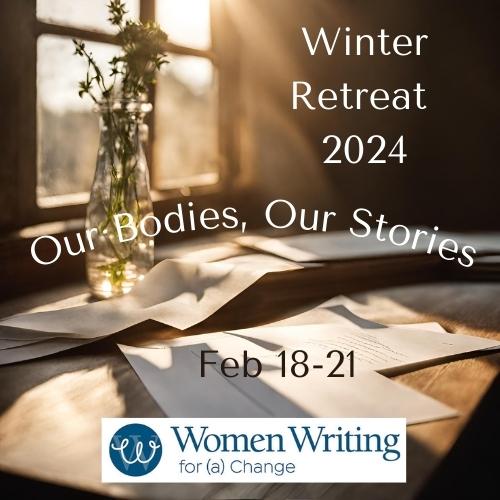 We are spinners and weavers; we are the ones who spin the threads and weave them into meaning and pattern. ~Adapted from Sharon Blackie
We each have our own unique story to tell. Our bodies hold the stories from our lives as well as the stories from our ancestors. Our bodies remember. They know a history we cannot always name. They hold what is good and what causes pain. They archive our experiences of our todays, our presents, and futures--this is what our bodies hold and makes our bodies whole.
Let's gently explore through our writing what has influenced us. Let's ask ourselves some of the brave questions. Our world needs each of our voices, our truths, our stories. A retreat can offer space and time for you to strengthen your writing. Use the slower pace of this winter retreat as a time to take care of your body.
We will have writing time, sharing time, and large group time. We will also have the luxury of unscheduled time each day.
Reacquaint yourself with the gifts of living in WWf(a)C community. Share your writing in nonjudgmental space, a space that frees encouragement and acceptance. Experience the shared community that builds as we listen to the common threads in our stories.
Arrival Time: Sunday, February 18, 3:30-4:30PM
Departure Time: Wednesday, February 21, approximately 11:30AM
Nonrefundable Deposit: $100 -- Payment is due in full by Thursday, February 1, 2024

COVID-19 Protocol: Transfiguration Spirituality Center does not currently have a vaccination or mask requirement. Registrants will be notified of any changes, should they occur.
Please Note: Because TSC is located on the same campus as Bethany School, a National Sex Offender Registry check will be completed for all guests.

Cancellation Policy:

$100 Nonrefundable deposit due within seven calendar days of registration.
Payment is due in full by Thursday, Feb 1, 2024.
If cancelling on or before Feb 1, 100% of fees paid will be credited towards a future class at WWf(a)C, minus the $100 deposit.
If cancelling after Feb 1, 30% of fees paid will be credited towards a future class at WWf(a)C, minus the $100 deposit.
All credits must be used within one year of receipt.


(Image by AI via Canva)
Scholarships
Scholarships in varying amounts are available for our programs depending on need and availability of funds. If you would like to apply for a scholarship for one of our classes, click here to download our PDF application. Call 513-272-1171 if you have further questions.
Please include your contact information and the class you are interested in taking. Thank you!