The Craft of Poetry: How to Break the Rules - August 19 - IN-PERSON
Facilitator:

Christine Wilson
Date:

08-19-2022

Time:

10:00 am ET to 12:00 pm ET

Tuition:

$30.00

Open to:

All Genders 16+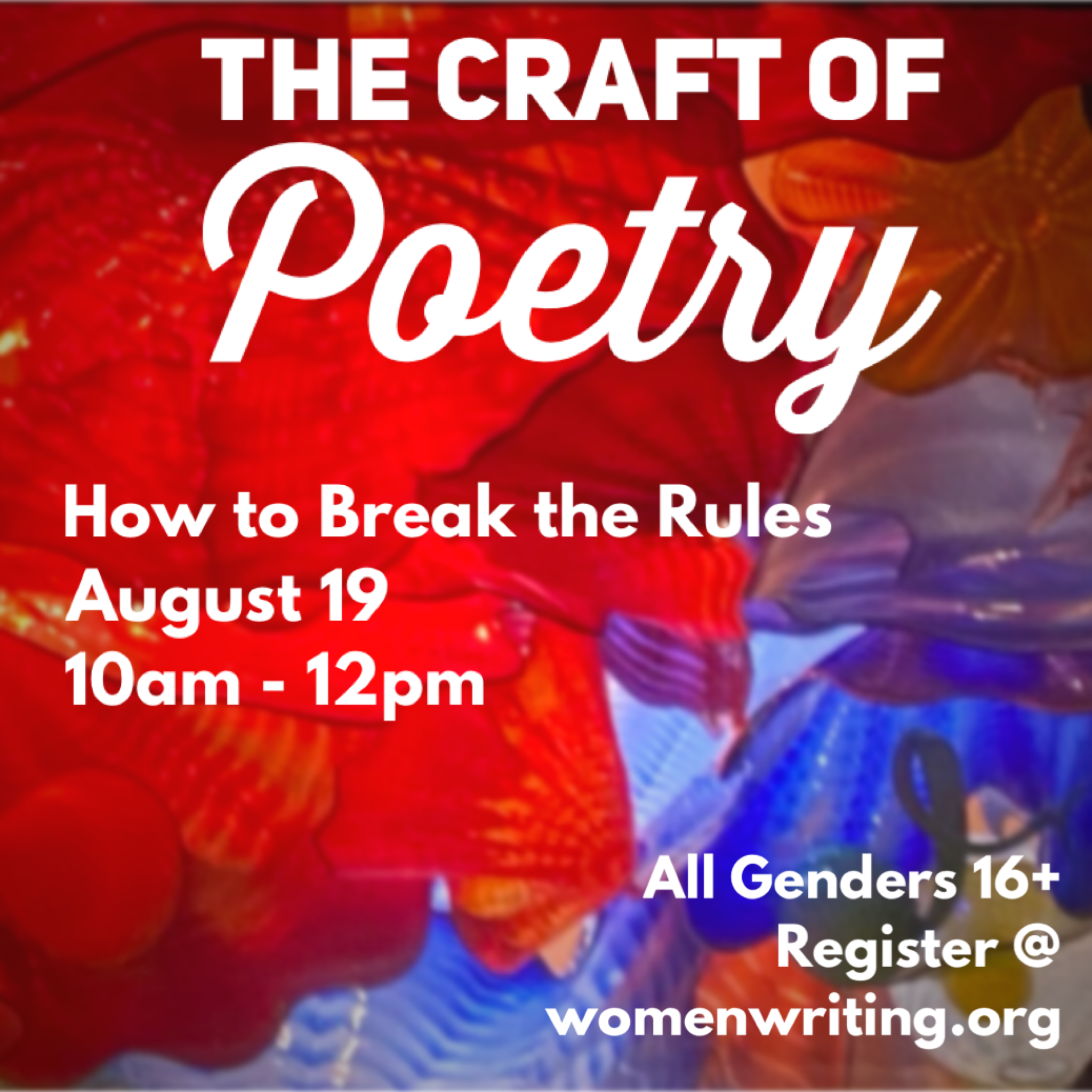 There are as many ways to create poetry as there are poets and writers. We will discover together poetry's techniques, terms, and genres as you find and hone your own poetic voice.
The Craft of Poetry will explore an aspect of poetry, look at poets and poems who utilize that aspect, and hone and craft the writer's own work.
In this session, How to Break the Rules: Poetry is evolving and new poets are trying experimental forms. We'll see what's out there and try to remove unnecessary barriers in our own work.
COVID-19 Protocols: All attendees must provide proof of vaccination. Please email a photo of your vaccination card to vaccines@womenwriting.org. Your vaccination status will be kept confidential on file with the office. Please note that if you have already provided your proof of vaccination in order to attend a previous class or event with Women Writing for (a) Change, you do not need to send it again. In addition, masks will be optional.
What Motivates Christine:
To both demystify poetry and encourage others to embrace the mystery.
To support writers in honing their own poetic voice.
To cultivate a brave space for poets to listen, share, and grow.

Christine Wilson (she/her) is a local artist, writer, spiritual leader, and mentor living in Northside, which suits her just fine. She won the English Department award in poetry at University of Cincinnati where she attended, and has had solo shows at Rohs St. Café and Red Tree Art Gallery where her art occasionally pops up. She spent multiple years in ministry at a local church where she headed up arts, teens, spiritual growth, and was the sole writer for a 25,000 readership devotional. She also has a passion for diversity and justice and does ongoing work with trafficking victims in India. Christine is a 2017 Graduate of the WWf(a)C Conscious Feminine Leadership Academy.
(Image by Christine Wilson)
Location & Special Instructions
Women Writing for (a) Change
6906 Plainfield Road
Cincinnati, OH 45236
Scholarships
Scholarships in varying amounts are available for our programs depending on need and availability of funds. If you would like to apply for a scholarship for one of our classes, click here to download our PDF application. Call 513-272-1171 if you have further questions.
Please include your contact information and the class you are interested in taking. Thank you!