The Craft of Poetry - VIRTUAL
Facilitator:

Christine Wilson
Date:

01-18-2024 to 02-22-2024

Time:

7:00 pm ET to 9:00 pm ET

Tuition:

$195.00

Open to:

All Genders 16+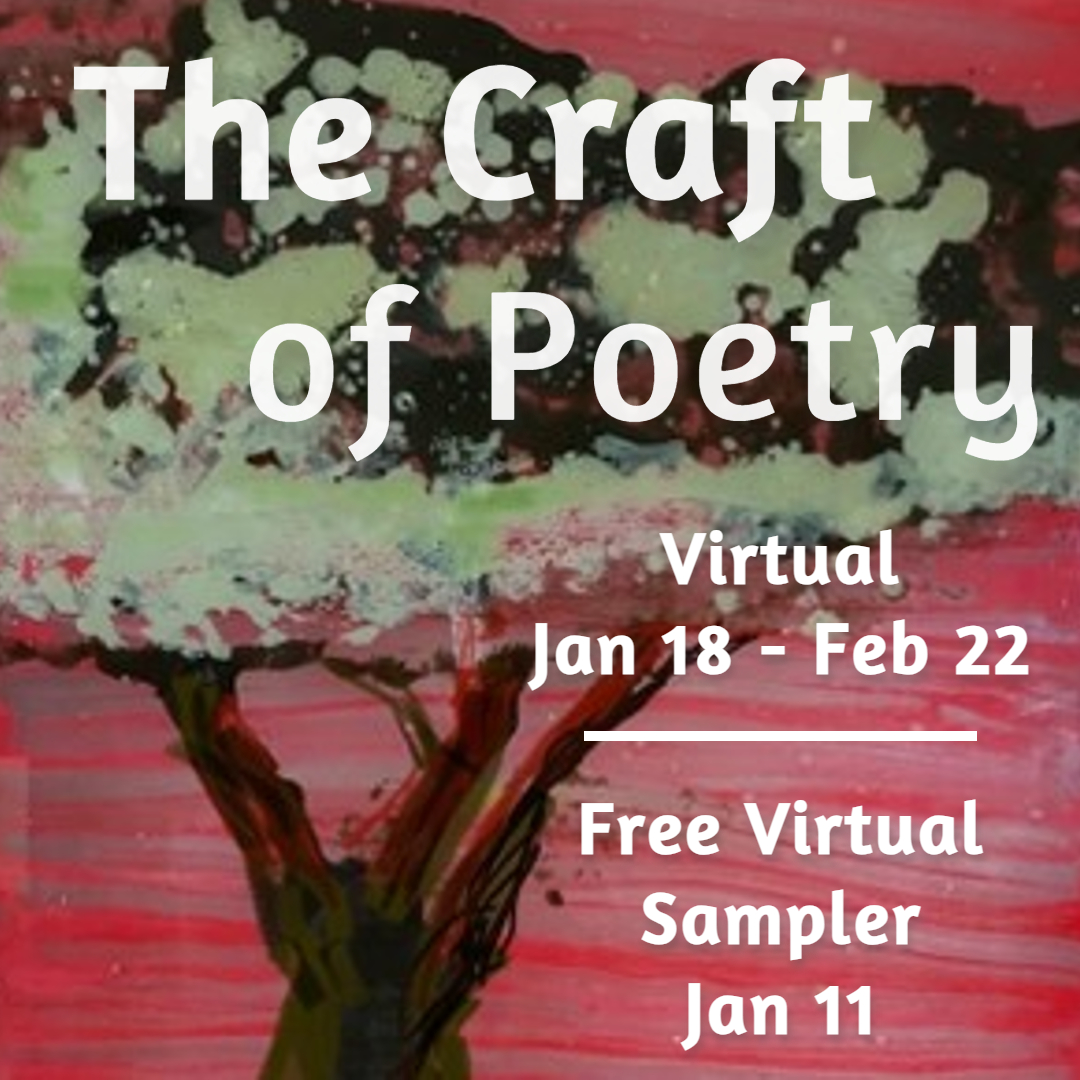 The Craft of Poetry will explore an aspect of poetry, look at poets and poems that utilize each aspect, and hone and craft the writer's own work.
Thursdays: Jan 18, 25, Feb 1, 8, 15, & 22, 7-9pm ET via Zoom.
**Please note that this class will be held via Zoom online conferencing. Your facilitator will provide specific details regarding this online community prior to the start of class.**
Class Arc
Week 1: An Intro Article to Turn on the Craft Focus
Week 2: Focus on Creative Language
Week 3: Focus on Shape and Rhythm (line breaks/stanzas/space/meter)
Week 4: Focus on Themes (ex: place, belief, anatomy, geology, bees)
Week 5: Focus on Forms: sonnet/sestina/golden shovel/experimental
Week 6: Staying Inspired, Living Like a Poet

Tuition $195 due upon registration.
CANCELLATION POLICY: Tuition is non-refundable but can be credited towards a future class if the student withdraws no later than 14 days prior to the beginning of class. No refunds for missed classes. All credits must be used within one (1) year of receipt.

Questions? We've got a FREE Virtual One-Hour Sampler for this class Thursday, Jan 11, 7-8pm ET (Registration required).
Christine Wilson is a graduate of the Conscious Feminine Leadership Academy.
What Motivates Her:
To both demystify poetry while encouraging folks to embrace the mystery.
To study the lineage of poetry.
To support writers in honing their own poetic voice.
To cultivate a brave space for poets to listen, share, and grow.

(Artwork by Christine Wilson)
Location & Special Instructions
Women Writing for (a) Change
via Zoom online conferencing
Scholarships
Scholarships in varying amounts are available for our programs depending on need and availability of funds. If you would like to apply for a scholarship for one of our classes, click here to download our PDF application. Call 513-272-1171 if you have further questions.
Please include your contact information and the class you are interested in taking. Thank you!