Rewrite, Revise, Repeat: A Three-part Revision Workshop for Writers-IN-PERSON
Facilitator:

Annette Januzzi Wick with Guest Artist Tina Neyer
Date:

01-28-2023 to 03-25-2023

Time:

1:00 pm to 4:30 pm

Tuition:

$150.00

Open to:

All Genders 18+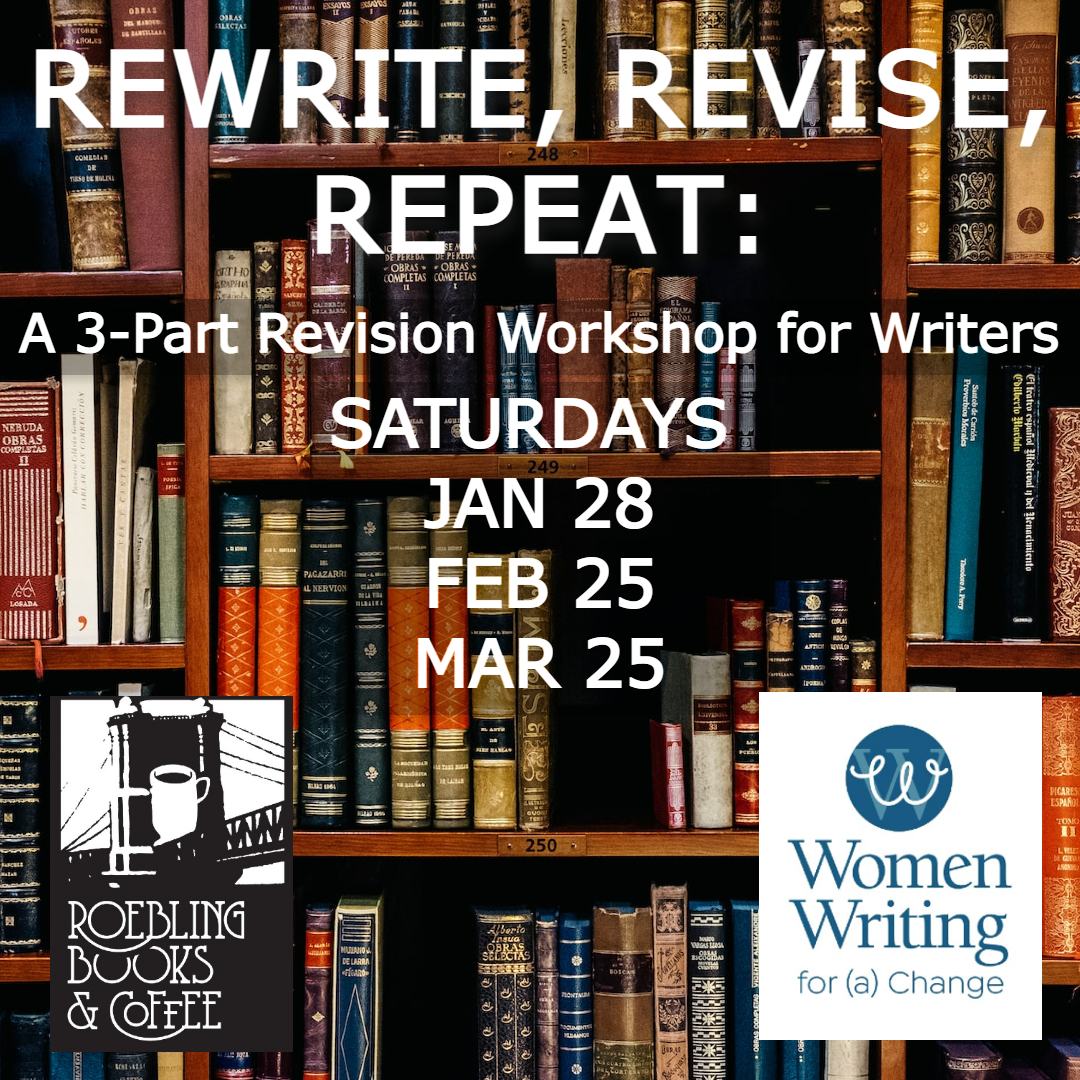 We're not good enough to not practice. I write and revise almost 4 hours a day. ~Kiese Lamon, writer

In partnership with Roebling Books & Coffee (Newport, KY) and WWf(a)C. Join Kentucky-based writer and teacher, Tina Neyer, and Cincinnati-based author and blogger, Annette Januzzi Wick, in this three-part workshop to rewrite or revise. This includes creative non-fiction (memoir, biography, autofiction, collection of personal essays) and fiction, all with a focus toward a complete manuscript. *Does not include poetry or non-fictional how-to's/business genres.

Each session will contain an overview of terminology, strategies, techniques, and generative in-class prompts related to revision. Subject matter will include, but is not limited to, structure, character, themes, outlining. We will also utilize Matt Bell's Refuse to be Done as a resource.
Criteria: Participants must have writing ready for rewrite and revision stages, be willing to share work openly ("without fearing someone will steal my idea"), commit to preparation, and be willing to critique and remain open to critique for the sake of improvement.
Three Saturdays: Jan 28, Feb 25, and Mar 25 from 1-4:30pm.
Roebling Books & Coffee in Newport, 601 Overton St, Newport, KY 41071
*Participants must attend first session to attend 2nd and 3rd. Full payment due at time of registration. No refunds for missed sessions.
Tina L. Neyer is a writer, writing coach, and community advocate. Tinaneyer.com
Annette Januzzi Wick is a writer, speaker, blogger, and author of two memoirs. Annettejwick.com
(Image by Inaki Del Olmo via Unsplash)
Location & Special Instructions
Roebling Books & Coffee
601 Overton St.
Newport, KY 41071
Scholarships
Scholarships in varying amounts are available for our programs depending on need and availability of funds. If you would like to apply for a scholarship for one of our classes, click here to download our PDF application. Call 513-272-1171 if you have further questions.
Please include your contact information and the class you are interested in taking. Thank you!