All Gender Core Class Winter Term Wednesday PM - 10-week - VIRTUAL
Facilitator:

Laurie Lambert
Date:

01-3-2024 to 03-6-2024

Time:

7:00 pm ET to 9:30 pm ET

Tuition:

$319.00

Open to:

All Genders 18+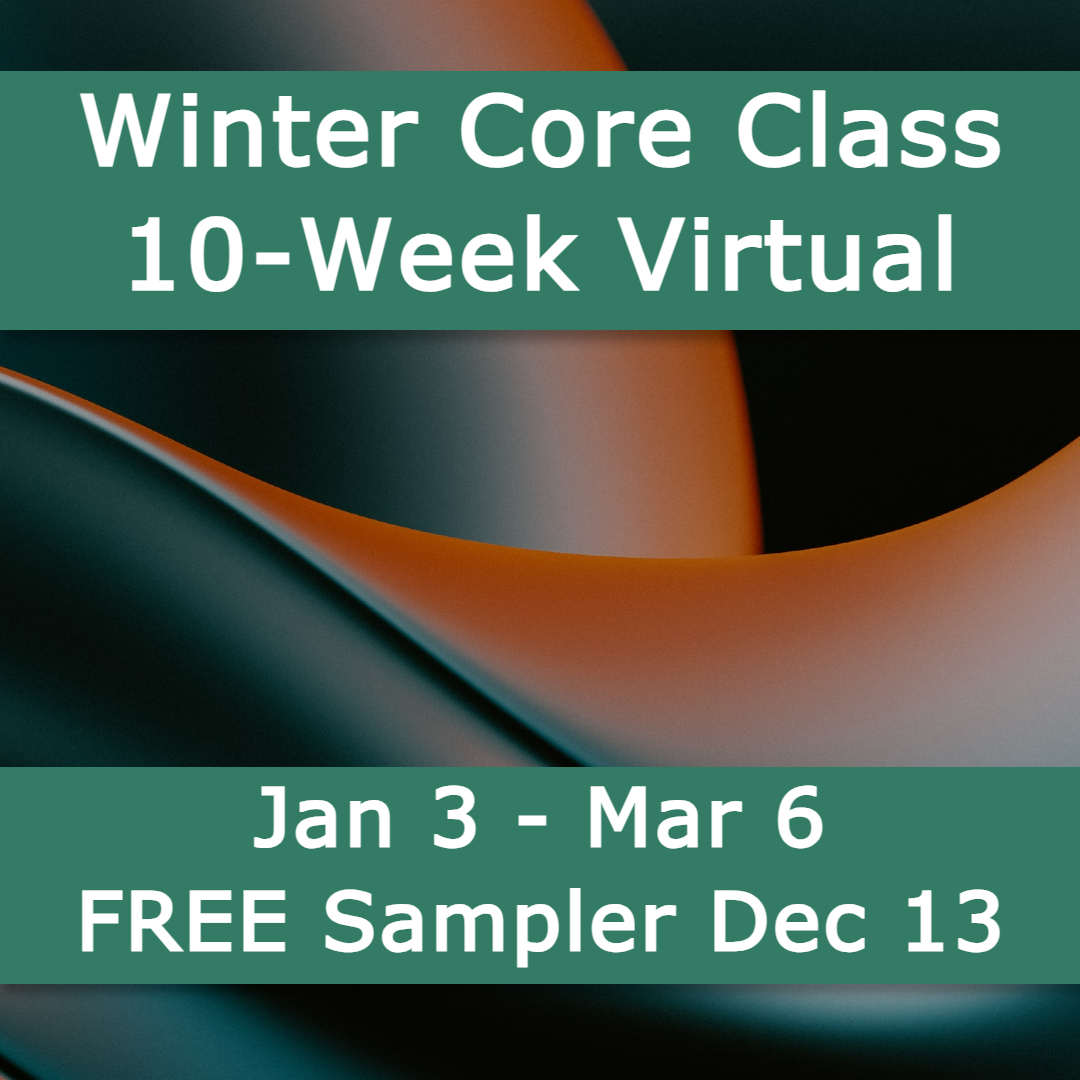 "I took this class to develop my skills and expression as a writer. It's done that, sure. But the light and positivity it has brought to my life has been such a gift." ~Wednesday PM Writer
**Please note that this class will be held via Zoom online conferencing. Your facilitator will provide specific details regarding this online community prior to the start of class.**
The featured focus is writing in community over a period of several weeks. While some writing technique is taught in each class, emphasis is placed on the writer pursuing their own forms of written expression (e.g., poetry, memoir, fiction, non-fiction or journaling). Each writer is in charge of their writing. Each writer requests from small group members the type of feedback desired, based on each individual's motivation and intentions. The proven process used creates a safe space for writers to develop their own voice and offers opportunities to have their words heard and honored without judgment.
Audience for this offering:
People who want support, inspiration and accountability for pursuing writing for personal or professional growth
People who view writing as a transformational process for connecting to and telling the truth of their lives
People who are seeking community, connection and meaningful conversation and who see writing as a process that enriches their lives
CANCELLATION POLICY: Tuition is non-refundable but can be credited towards a future class if the student withdraws no later than 14 days prior to the beginning of class. No refunds for missed classes. All credits must be used within one (1) year of receipt.
Questions? We have a FREE Virtual Sampler Wednesday, December 13, 7-8:30pm ET.
(Registration required)
(Image by Pawel Czerwinski via Unsplash)
Location & Special Instructions
Women Writing for (a) Change
via Zoom online conferencing
Scholarships
Scholarships in varying amounts are available for our programs depending on need and availability of funds. If you would like to apply for a scholarship for one of our classes, click here to download our PDF application. Call 513-272-1171 if you have further questions.
Please include your contact information and the class you are interested in taking. Thank you!