Surfacing: Reunion Retreat for C/FLA, CFLT and YFLA Graduates
Facilitator:

Diane Debevec & Lisa Prantl
Date:

06-23-2022 to 06-26-2022

Time:

3:30-4:30 pm (Thursday) to 11:30 am (Sunday)

Tuition:

$320.00

Open to:

Leadership Graduates of WWf(a)C C/FLA, CFLT and YFLA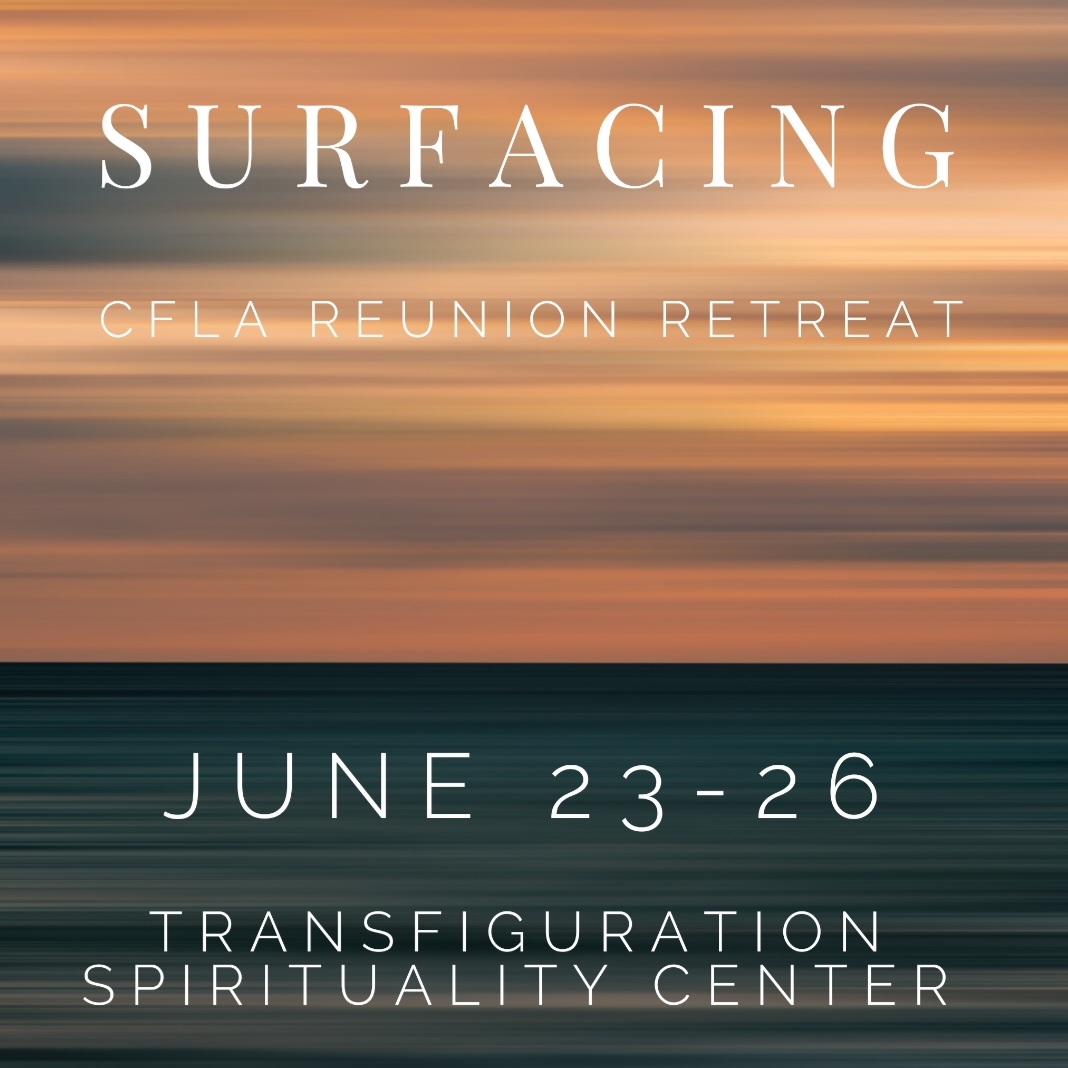 The last few years have been some of our most challenging. If you have been seeking ways to step up your self-care, this retreat offers the opportunity of spaciousness, with ample time to write, pause, play and ponder. We invite you to join our community of leadership graduates, as we embrace Women Writing for (a) Change practices at the lovely Transfiguration Spirituality Center. Retreat and reflect, arrive and renew, alone and together again.
The retreat will be held at the Transfiguration Spirituality Center in Glendale, Ohio. Your facilitators will be Diane Debevec and Lisa Prantl.
Arrival Time: Thursday, June 23, 3:30 - 4:30pm
Departure Time: Sunday, June 26, 11:30am (lunch not provided)
IMPORTANT UPDATES AT TRANSFIGURATION SPIRITUALITY CENTER:

Because TSC is located on the same campus as Bethany School, a National Sex Offender Registry check will be completed on all guests. Names and addresses of all group participants will be provided to TSC.


TSC is no longer able to accommodate dietary preferences. Currently there are six rooms with refrigerators and microwaves for guests with allergies or special dietary preferences. Meals include an enhanced continental breakfast, a boxed lunch, and a single homecooked meal offering for dinner.


COVID-19 Policy: *Proof of full Covid vaccination required. You may email a photo of your vaccination card to vaccines@womenwriting.org. Your vaccination status will be kept confidential and on file with the office. Masks are mandatory inside, but masking is optional outdoors. *Please note that if you have already provided your proof of vaccination in order to attend a class or previous event at Women Writing for (a) Change, you do not need to send it again.

PAYMENT/CANCELLATION POLICY:
WWf(a)C requires a non-refundable deposit of $100 within seven days of registration. Please note, your registration is not confirmed until we receive your deposit. Students can pay upon registration via PayPal or can submit a check to WWf(a)C.


Full payment for the program is due Monday, May 23.


If canceling at least 30 days prior to the first retreat day (by May 23, 2022), 100% of fees paid to date will be returned minus the $100 deposit.



There are no refunds for cancellations made within 30 days of the first retreat day

(

from May 24 through June 23, 2022

).


(Image by Kenrick Mills on Unsplash)
Location & Special Instructions
Transfiguration Spirituality Center
495 Albion Avenue
Cincinnati, OH 45246
(located in the Village of Glendale)
Scholarships
Scholarships in varying amounts are available for our programs depending on need and availability of funds. If you would like to apply for a scholarship for one of our classes, click here to download our PDF application. Call 513-272-1171 if you have further questions.
Please include your contact information and the class you are interested in taking. Thank you!