Crystal Clear
Facilitator:

Mary Dusing with Tina Todd
Date:

04-13-2019

Time:

1:00 pm to 4:00 pm, with Pop-Up Shop from 4-4:30 pm

Tuition:

$25.00

Open to:

WWf(a)C Leadership Graduates
Ever wonder about those rocks we use as talking stones? Question if there's something more to them? If you used a different stone, might the results be different? Better? Could there be other applications for them? Ever consider taking a class in crystals, but were too intimidated? This won't be like that. Nope.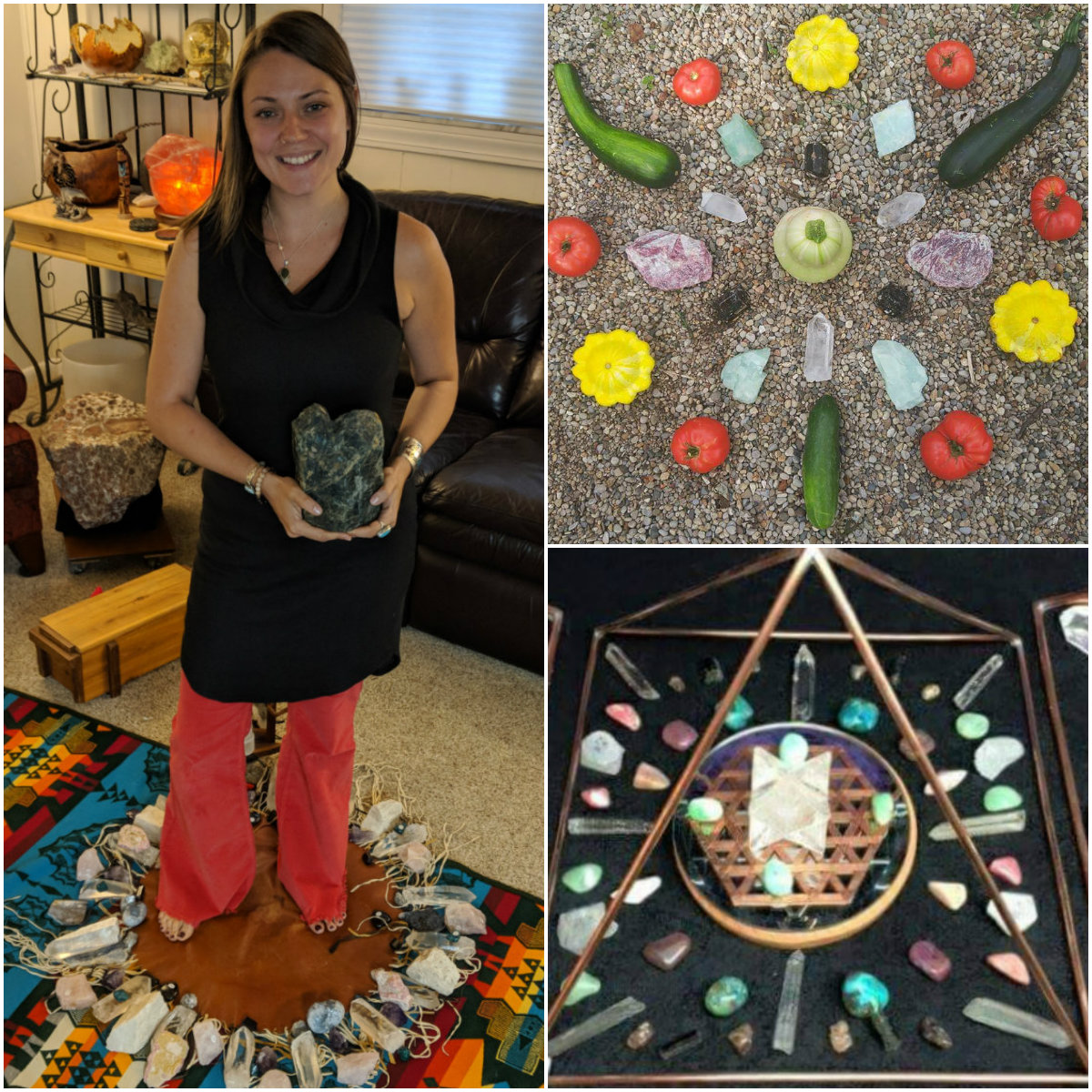 (Tina Todd and some of her crystal grids.)
Local Crystologist (a person who is engaged in the study of crystals and stones), Tina Todd, will walk us through some basic information and give participants a hands-on opportunity to play with stones, make some grids, and encourage us to listen to the stories the stones can tell us. They can be powerful allies for a writer, a facilitator – any human being.
There will be time to discover, play, write and share. A 30-minute pop-up shop will be available after the workshop for you to purchase some beauties of your very own.
Mary Dusing is a lifelong Kentucky resident. She has owned her chair in the Wednesday evening Core class of the Women Writing for (a) Change Cincinnati community since 2006. Her writing weaves themes of mysticism, feminism, sexual abuse, body image and that place where art overlaps science in a Venn diagram. Much of her writing over the last few years has centered around being caregiver to a parent with Alzheimer's. Mary has been known to hare off down a rabbit hole in pursuit of whatever intrigues her.
Tina Todd is a local crystologist. She has been involved in healing work since childhood. She has eight years of training and studies with stones. Tina has taught numerous classes about their uses at local music festivals and yoga studios. She is currently working at the Crystal Guy in Blue Ash as their social media department, sales, and lapidarist (one who cuts and polishes stone).
Location & Special Instructions
Women Writing for (a) Change
6906 Plainfield Road
Cincinnati, OH 45236