Voices Unlimited: A Collaborative Workshop with Art Beyond Boundaries - VIRTUAL
Facilitator:

Karen Novak
Date:

02-26-2023 to 03-12-2023

Time:

1:00 pm ET to 3:30 pm ET

Tuition:

$129.00

Open to:

All Genders 18+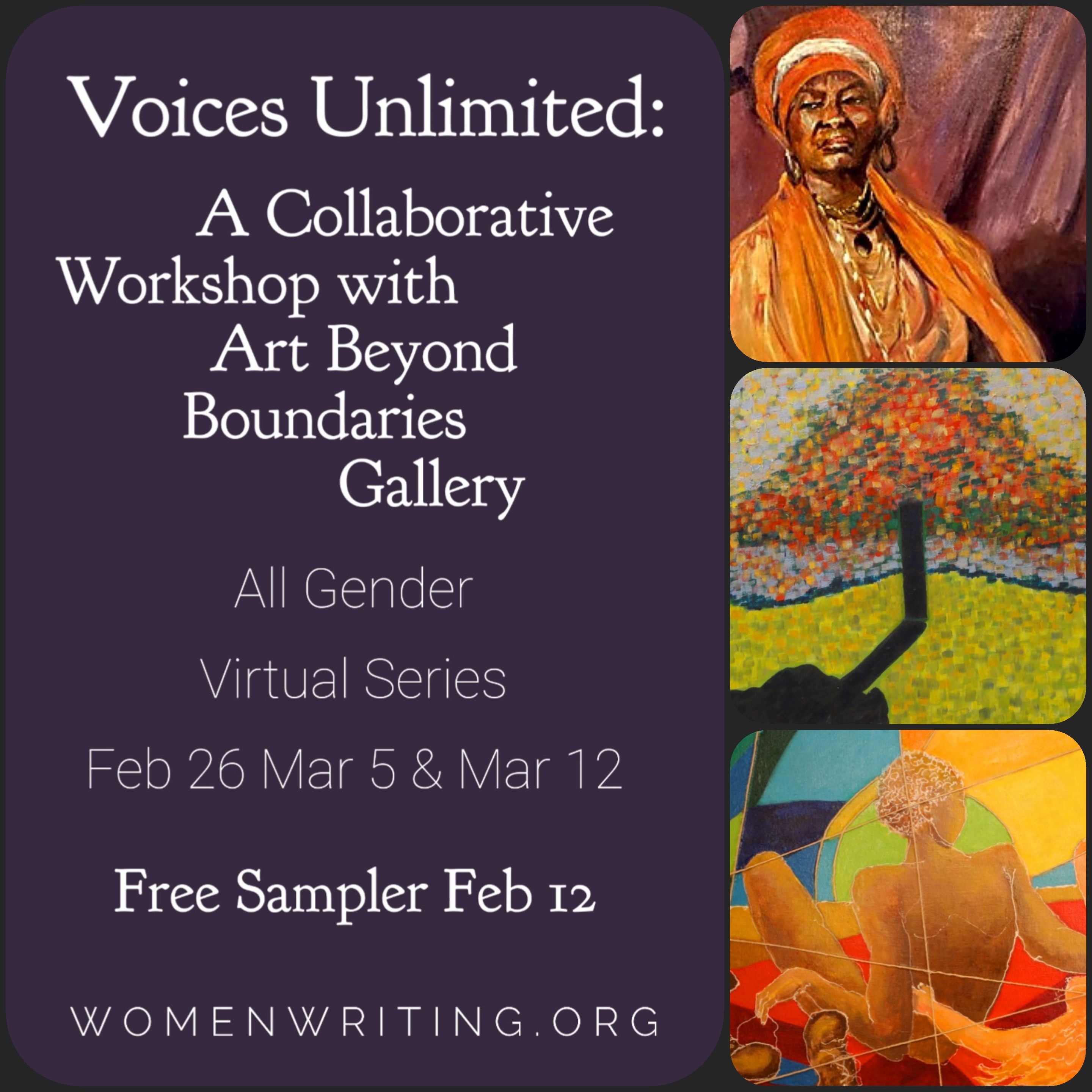 This three-part VIRTUAL circle experience is OPEN TO ALL, with a special invitation to those with chronic health challenges or care givers. The three-part workshop offers a positive, honest way of expressing the fullness of our lives with and beyond these conditions.
This series is held in collaboration with Art Beyond Boundaries, a non-profit fine arts gallery located at 1410 Main Street, whose mission is "to promote the understanding of artists with disabilities and show that art goes beyond the limits of disabilities."
Payment in full due at time of registration.
Sundays, Feb 26, Mar 5 & Mar 12, 1-3:30pm ET via Zoom
**Your facilitator will provide specific details regarding this online community prior to the start of the Sampler.**
Using WWf(a)C practices, participants will respond to artwork from the upcoming Legacies exhibit, being held at Art Beyond Boundaries from March 11-April 21. To celebrate the creative process, participants will be invited--but not required--to share their written work at a virtual reading and at the Art Beyond Boundaries Gallery on April 1.
Want a little more information? We've got a FREE Virtual Sampler for this class on Sunday, Feb 12, 1-2:30pm ET via Zoom (registration required).
If you have questions or want further information, contact Karen Novak. Scholarships available (please see below).
Karen Novak is a four-time published novelist, writing teacher, practiced facilitator, and graduate of the Conscious Feminine Leadership Academy. She writes: My experience with this topic has been "on the job" training. Having a disability in my back from scoliosis as well as a complexity of other health realities to deal with, I have learned that the secret to seeing my life as a beautiful thing unfolding was to be part of something larger. My sense of community at Women Writing brings me joy and sustains me in difficult times. My writing skills have grown exponentially while here.
(Paintings in image: Edith Sussaret Marrero (top); Melissa Sammarco (middle); Ruthe Pearlman (bottom))
Location & Special Instructions
Women Writing for (a) Change
via Zoom online conferencing
Scholarships
Scholarships in varying amounts are available for our programs depending on need and availability of funds. If you would like to apply for a scholarship for one of our classes, click here to download our PDF application. Call 513-272-1171 if you have further questions.
Please include your contact information and the class you are interested in taking. Thank you!