V-Day 2023: Create & Connect - SUN Mar 26 - VIRTUAL - $25
Facilitator:

Laurie Lambert
Date:

03-26-2023

Time:

2:00 pm ET to 4:00 pm ET

Tuition:

$25.00

Open to:

All Genders 18+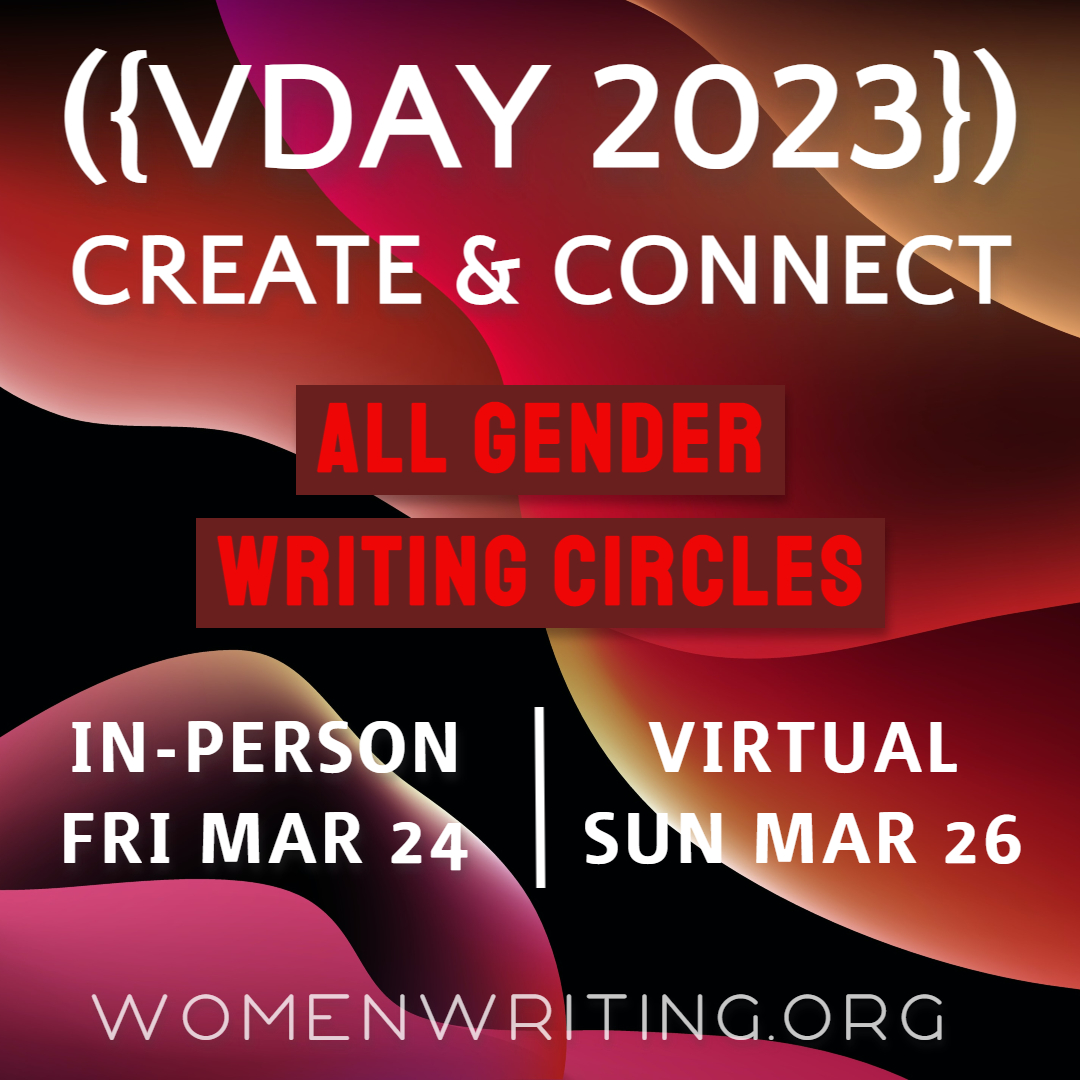 In this 11th year of honoring V-Day, WWf(a)C will underscore the importance of community, and decrease the emphasis on performance. Our observance, which will be open to All Genders 18+, will consist of writing circles. Writers are welcome to bring pieces prepared in advance (3-minute time limit) or, we will also have a fastwrite opportunity and folks can share that writing if desired. As always, passing will be an honored option and confidentiality will be expected of all participants.
By registering here, you are enrolling in the Sunday afternoon, March 26, circle at $25. If you would prefer to register at a different tuition level or for the Virtual circle, please select the appropriate option below. The format for the In-Person and Virtual circles will be identical: Opening poem, Check-in, Fastwrite, and Readaround with a break at the half, Readback lines, Closing with intention, and Soul Cards.

Payment must be made in full at time of registration. No refunds.
Friday, March 24 at $25 - IN-PERSON
Friday, March 24 at $10 - IN-PERSON
Sunday, March 26 at $10 - VIRTUAL
For the last several years, our V-Day events have served as containers for the stories of our lived experiences. Stories submitted by our writing community take the form of essays, poems, songs, memoir, letters, and rants. Pieces with humor have played an important role too. Some writings reflect suffering, others describe healing; some express despair, others hope. We expect this year's event to reflect similar diversity in content. The writing circle holds each story with compassion, acceptance, and utmost confidentiality. It's a liberating experience that expands the hearts of both readers and listeners.
Contributions from V-Day events provide vital support for our outreach circles that serve survivors of abuse and homelessness, as well as incarcerated individuals. Donations are also encouraged from those who cannot attend but want to support this important outreach work (please indicate "V-Day Donation" in the "Comments" box on the donation page.)
For more information about the V-Day movements, please visit vday.org and onebillionrising.org.
(Image by Richard Horvath via Unsplash)
Location & Special Instructions
Women Writing for (a) Change
via Zoom online conferencing