We Build Each Other Up: Hip Hop & Respect
Facilitator:

MoPoetry Phillips
Date:

07-27-2021 to 07-29-2021

Time:

10:00 am ET to 12:00 pm ET

Tuition:

$75.00

Open to:

Youth of All Genders in Rising Grades 6-9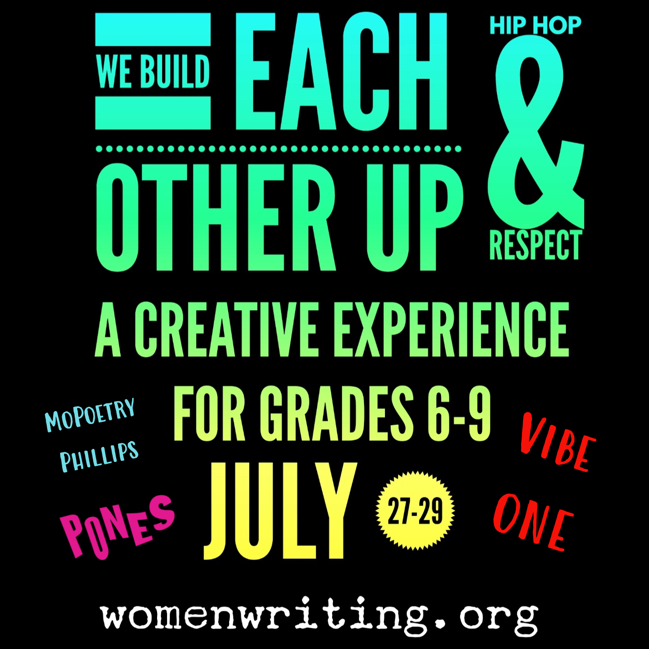 In collaboration with WWf(a)C facilitator MoPoetry Phillips, guest choreographers from Pones, and guest hip hop artist Vibe-One, this special workshop will incorporate creative writing with hip hop choreography that transforms into a professionally mixed video in front of the Village of Silverton's "All in This Story Together" mural.
In our writing circle, we will use hip hop as a tool to discuss and discover how empowerment and respect are valuable parts of being a young person. How do these ideas go together? Hip hop is all about respect and we will focus on celebrating our own uniqueness, each other, and lifting each other up versus tearing others down.
Readback lines from the participants' own creative writing during the three-day session will be layered with their rehearsed hip hop moves on an original hip hop-inspired musical soundtrack, composed by guest hip hop artist Vibe-One.
Let's share our creative powers in celebration of our own personal identities through writing, hip hop, and community-building!
*Participants will be included in a professionally produced community video that will be shared by Women Writing for (a) Change and guest artists via social media.
COVID-19 PROTOCOL: This workshop will adhere to the most up-to-date safety protocols and recommendations as provided by the State of Ohio. This includes reducing the maximum number of participants in this workshop.
Location & Special Instructions
Women Writing for (a) Change
6906 Plainfield Road
Cincinnati, OH 45236
Scholarships
Scholarships in varying amounts are available for our programs depending on need and availability of funds. If you would like to apply for a scholarship for one of our classes, click here to download our PDF application. Call 513-272-1171 if you have further questions.
Please include your contact information and the class you are interested in taking. Thank you!