Newsroom
2022-2023 Program Announcements

Dear Women Writing for (a) Change Community,
As fall approaches, I want to let you know how decisions were made regarding the delivery method for programs that start this month.
Many of you took time to respond to a fall programming survey in mid-June. Over 115 people completed the survey, which asked about preferences for attending writing circles; gauged comfort level with vaccination and mask policies; and requested a wish list for potential programming. Great ideas were shared, some of which have already been implemented for fall.
To provide context for our work in the office, program and community event details have to be finalized and launched on our website a full two months before the first class session, to give ample time for participants to make registration decisions. That means we'll consider October's COVID-19 data to determine how to deliver programming that begins in January of 2023 (just as we considered June's data to determine September's program delivery).
When the question was asked about people's preference for virtual vs. in-person classes, in-person nudged out virtual by only 2%. But when people responded to their likelihood of registering for virtual vs. in-person class for this fall, virtual led in-person by 12%. Even though respondents slightly prefer in-person programming, they were more likely to register for virtual classes this fall.
There are many reasons for these trends, including work schedules, geographic location, convenience, driving and gas prices, health concerns, and childcare needs.
Without amazing facilitators to hold our circles, we can't deliver the transformative programming participants expect and deserve. Facilitators are part of the decision-making process for their own classes.
This fall, we have a combination of in-person and virtual offerings, with in-person programs leaning toward one-off circles and events, and shorter-term series. The COVID-19 protocols for in-person programs are currently being determined on a case-by-case basis, with the input of the presenter or facilitator. In order for a class to run, a minimum number of registrants is required.
It's been a long road these past 30 months; we've traveled it together as a community of writers. I'm grateful for the opportunity to serve you and I look forward to moving more programming back to the building we love in the near future.
Gratefully,
Lisa Rocklin
Executive Director
---
2022 Announcements
Dear Friends,
It's a New Year at Women Writing for (a) Change. As we tread softly but bravely into 2022, I'd like to share some exciting news and announcements with the Women Writing for (a) Change community.
New Logo & Website Set to Launch in Early 2022. You will see the new logo incorporated with upcoming programming announcements ahead of the full launch of the new website. The Board of Trustees, composed of writers from throughout the WWf(a)C community, is excited to realize this goal, which has been in development for the past two years.
We are grateful to Jane Pugliano and the late Randy Weeks, of NetCrafters Interactive, for their contributions to build the new website. The new logo was conceived by Elaine Olund of EEO Design, with ongoing input from the Marketing Committee and unanimous approval by the 2021 Board of Trustees. Both the logo and the website resonate energy and optimism, while honoring the organization's 30-year legacy.
Diversity, Equity & Inclusion. The DEI Committee is deeply immersed in developing ways to ensure WWf(a)C is inclusive, inviting, and engaging for women of color. The committee formed in early 2021 under the leadership of board member and committee chair Ashley Ferguson, and this important work has inspired generous financial support from the Harris Family Foundation to create and promote programming.
The first of four events, Black Joy is Unbreakable, is Friday, February 4, 2022. This celebration of BIPOC voices will include a presentation by journalist Dani McClain, author of We Live for the We: The Political Power of Black Motherhood. THIS EVENT IS NOW VIRTUAL!
The 2021 DEI Committee Members include: Chair Ashley Ferguson, Karen Arnold, Inga Harris, Molly Kavanaugh, MoPoetry Phillips, Anita Raturi, Lisa Rocklin, and Mary Wood-Constable.
10th Annual VDay February 25 & 26. Support readers from within and beyond the writing community by attending one or both nights, each with its own set of original readings. Proceeds from this virtual event support writing circles for survivors of gender-based violence. Gratitude to Laurie Lambert for ten years of leadership and facilitation of this special annual event. NEW THIS YEAR: Your single ticket purchase is good for both nights!
2022 Conscious Feminine Leadership Academy. The application window runs Jan 2-Mar 2, 2022. The 2022 program is co-facilitated by Diane Debevec and Lisa Rocklin.
There is much to look forward to in 2022. Thank you for being part of the community.
My best wishes to you for the coming year,
Lisa Rocklin
Executive Director
---
IMPORTANT UPDATE FOR WINTER 2022 CLASSES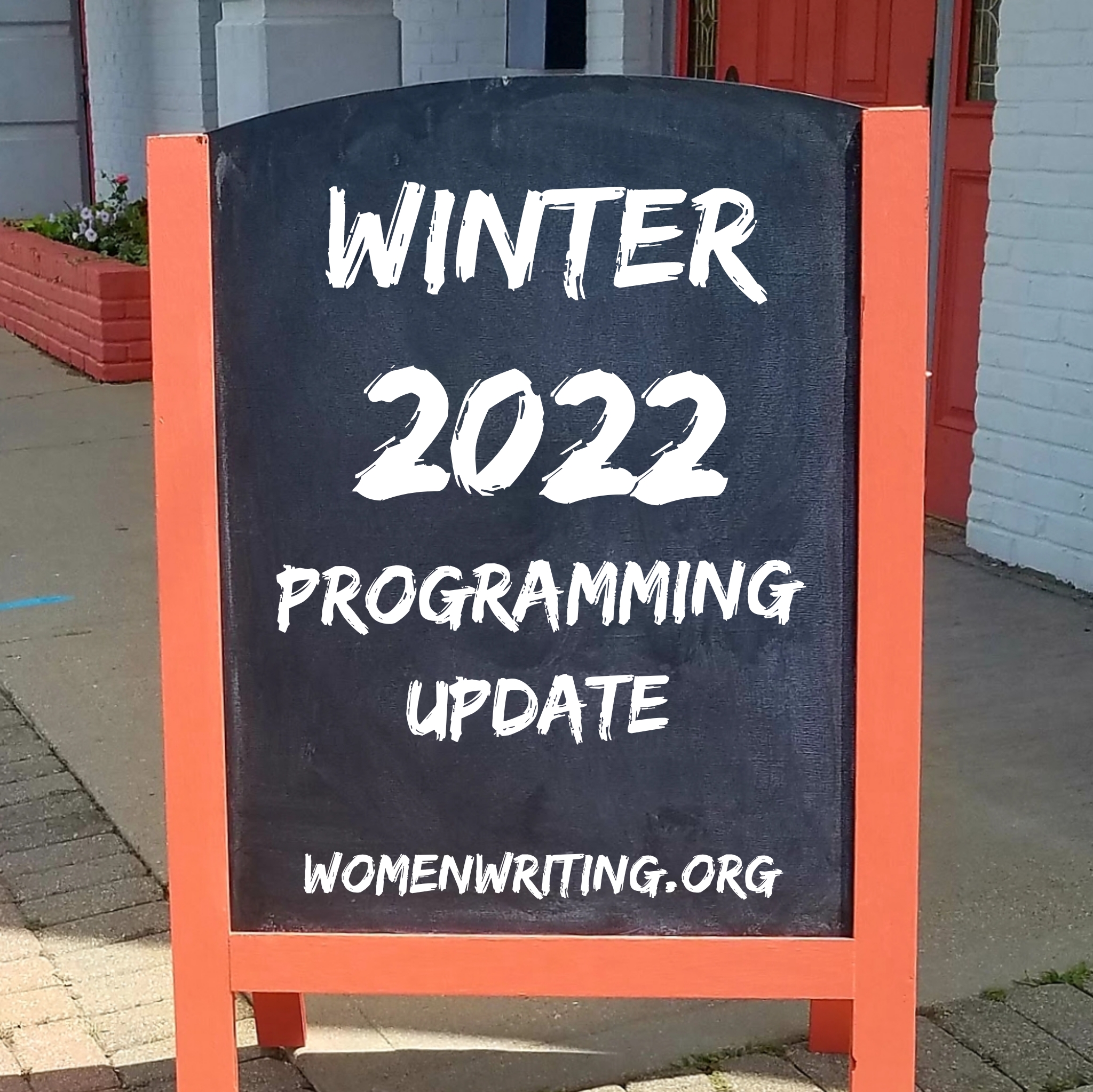 Winter 2022 Message

Our Winter Core Classes for 2022 will continue in the virtual format. We will re-evaluate for 10-Week Core Classes that begin in late March. Once a series is launched on the website and promoted to be delivered virtually, that delivery format will be maintained for the entire run of the series. Some of our one-off programs are currently being offered in-person at this time.
The description for each of our programs—whether a one-off event or ongoing series—states whether it is being offered virtually or in-person. When a program is offered in-person, our established protocol requires proof of vaccination and a mask while in the building.
Staff and facilitators continue to evaluate best practices with regard to COVID-19 on a monthly basis. The goal of the organization is to provide the most intentional and effective circle experience possible while also maintaining safety for all. Some considerations include:
How large or small can the circle be if we meet in-person? (number of attendees allowed)
How are in-person enrollments doing, compared to virtual? (number of attendees enrolled)
Is a significantly smaller in-person writing circle financially sustainable for the organization?
What additional stress is put on facilitators and circle members by meeting in-person?
How are we best utilizing our human resources among facilitators?

Your questions and concerns are valued! Please share them with executive director Lisa Rocklin at LROCKLIN@womenwriting.org.
---
In-Depth Article by Connie Springer: Covering History of WWf(a)C and Recent Wine & Art Event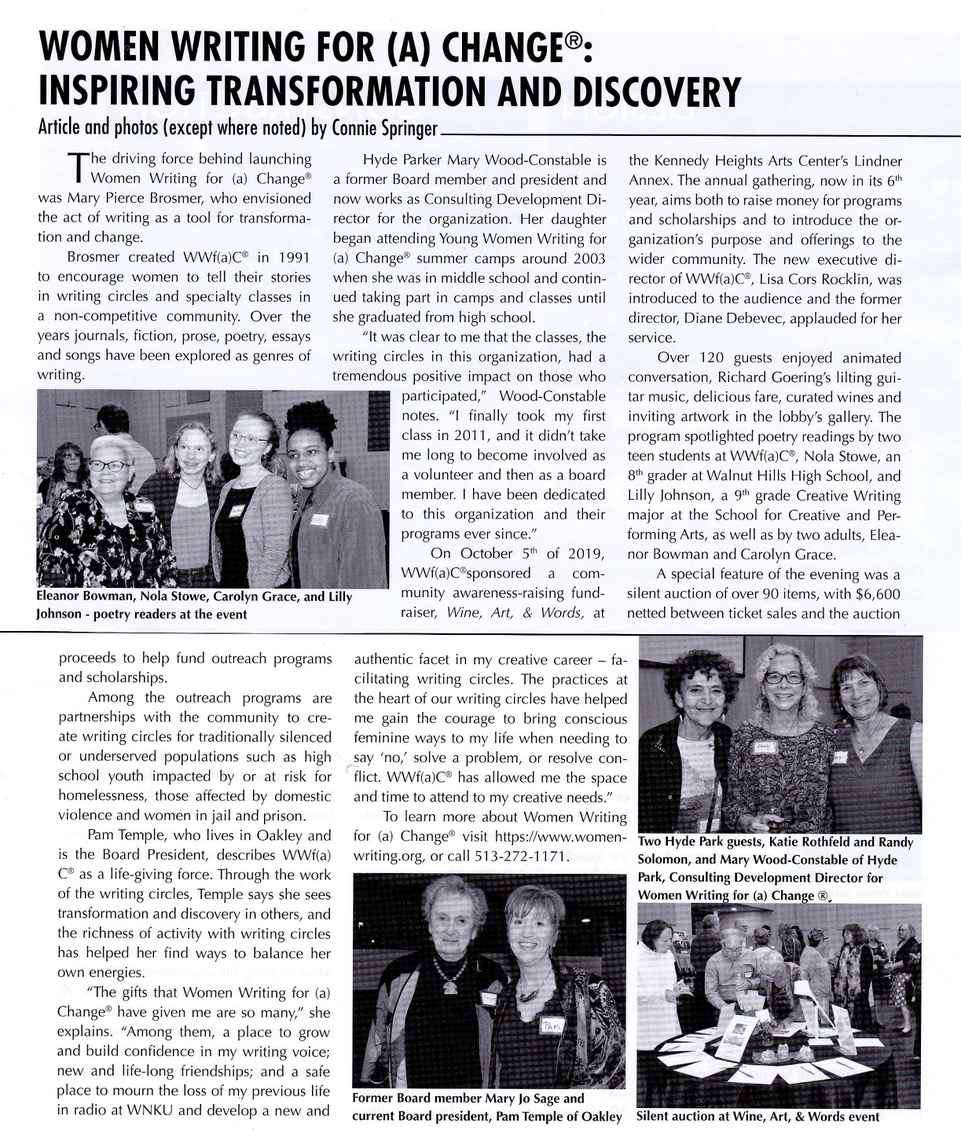 ---
Fox19 Interview with Lisa Rocklin

Lisa talks about our November 5th, 2019 Day of Giving Challenge: what it supports and how to participate.
---
Great Interview with Lisa Rocklin and Q102's Jeff Thomas!
Here's a great interview with our incoming Executive Director, Lisa Rocklin, from a Q102 podcast earlier this year. In the interview, Lisa discusses how her passion for writing eventually led her to Women Writing for (a) Change.
(Photo courtesy Q102)
---
Our Next Executive Director: Lisa Rocklin Shares her WWf(a)C Story
Recently, a gentleman I encountered at a public event asked me to explain the name of Women Writing for (a) Change, which had always confounded him. "Change from what? Change for what?" he inquired. It was brave of him to ask. I told him simply, for a change in self; for a change in perception of self in relation to others; for change that brings people together in an authentic way through the sharing of words—their own words in their own voices.
For me, that 'change' began as a recommitment to welcome personal writing back into my hectic life as a high school English teacher. My time was spent on everyone else's writing but my own. After my first sampler class in 2006, I began signing up for weekend offerings and the Summer Core Class. I had no desire at that time to publish; I simply wanted to check in with myself through my words. I wanted to write poetry again; I wanted to write personal memoir. And there was nothing I was expected to prove or validate by attending writing circles. I just needed to show up with my writing and my commitment to be a good listener, a fully engaged participant, and an equal member in a circle of peers. My writing voice found a home here.
In 2015, I enrolled in the Conscious Feminine Leadership Academy in the hope of deepening my understanding of the work of Women Writing beyond the walls of 6906 Plainfield Road. How could I learn to take this way of being into my personal life and my classroom? How would the process change my perception of self? In what environments might I be able to facilitate and hold space for others in the way that I had been so skillfully held by many facilitators over many years and circles?
Those questions continue to be answered in an evolution that keeps me growing, both personally and professionally. This learning has allowed me to lead writing circles in the school where I worked, for both students and colleagues. I have facilitated outreach writing circles for incarcerated women and students at risk for or facing homelessness. I have written with and listened to youth in weeklong summer camps where voices arrive as 4th graders and quite often continue to flourish annually until they're 12th graders. I have facilitated writing circles that weave reflective writing with art, music, history, nature, social justice, creativity, comedy, and grief. As a writer, I have pushed my comfort threshold by attempting stand-up comedy, spoken word poetry performance, and online poetry platforms where rejection is frequent but the satisfaction of submitting the work for consideration is exhilarating.
As is true for so many members of our community, Women Writing for (a) Change continues to foster my growth and leads me to take on new roles. After transitioning from a 21-year career as an educator to the position of Assistant Director of the organization in August of 2018, I am honored to accept the role of Executive Director beginning in January of 2020. My friend and mentor, current Executive Director Diane Debevec, inspires me with her leadership, collaboration, grace, and wisdom. As we work side-by-side through 2019, I am grateful for everything she has done and continues to do as the holder of this unique organization.
Women Writing for (a) Change has a certain magic to it that I have yet to find anywhere else. Founded by Mary Pierce Brosmer in 1991, it has been well tended by many gardeners. It is part of the landscape of a vibrant writing community here in Cincinnati and in other cities around the country, where affiliates have bloomed. It's something the world needs. I am grateful to continue its tending and growing in the circle we make together as a community. It has been my pleasure to get to know so many of you in this community and I look forward to meeting more of you each day to learn how we can continue to best serve your writing lives.
(Please scroll down for Letter from Diane Debevec, Executive Director, Women Writing for (a) Change)
(Photo by Suz Fleming)
---
Important News from Diane Debevec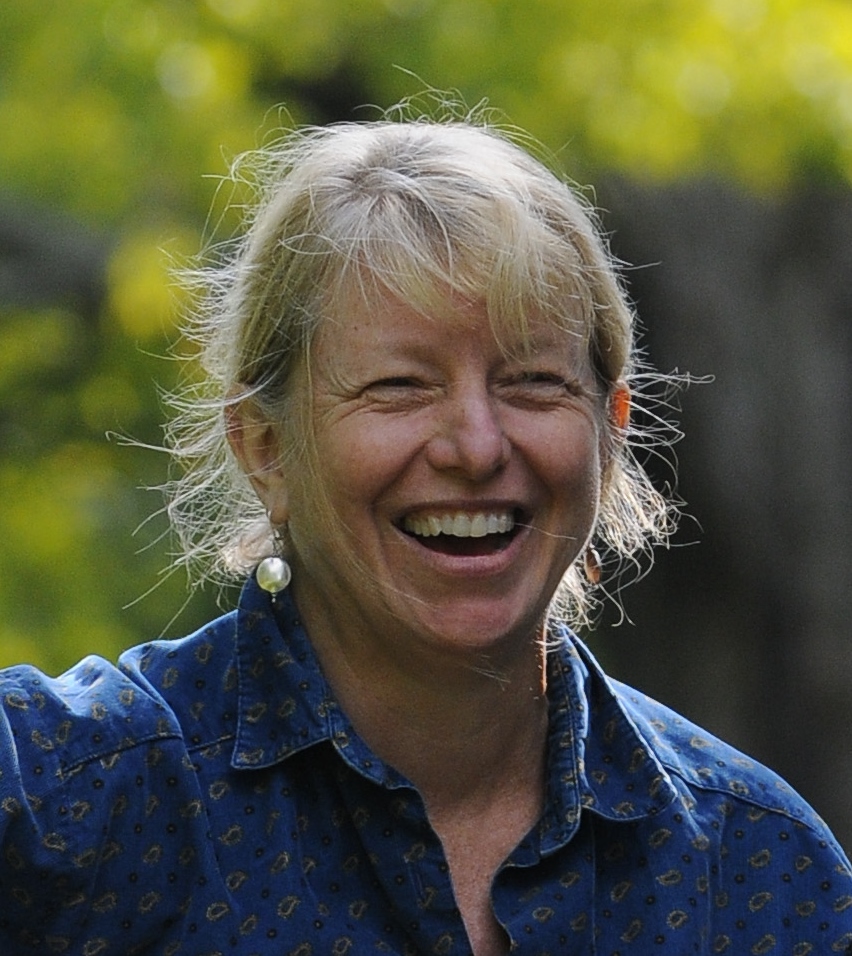 Dear WWf(a)C Community,
During the summer of 2017, the Women Writing for (a) Change Board of Trustees and I entered into a discernment process around the timing for me to leave the role of Executive Director. We all worked together openly and honestly, to make the best decision for this community and organization we are so passionate about. At that time, I realized that the needs of the Women Writing community required that I stay on. The Board and I, instead, worked toward hiring an Associate Director with succession planning in mind.
Over these past years, we as a staff and Board have been engaged in creating organizational stability and preparing for the future. We've all been working tirelessly toward those goals, and we have succeeded in what we set out to accomplish. I know that the time is now right for me to step back and refocus my energies on other passions. I will be leaving my position as Executive Director at the end of this year.
On behalf of the Board of Trustees, I am delighted to share with you that WWf(a)C's new Executive Director will be Lisa Rocklin. Lisa has been involved with Women Writing for the past 13 years in many capacities. Having first joined us as a writer in many classes and retreats, she is a 2015 graduate of the Conscious Feminine Leadership Academy, and has been facilitating WW classes since 2016. In July of 2018, Lisa was named WW's Associate Director. Over the past year, Lisa has demonstrated her talents, strengths and natural capacities as a leader for this community. Her life and work experience in the world give her a unique combination of skills to lead WWf(a)C into the future. In the remaining months of this year, Lisa and I will work closely together to ensure a seamless transition. (See Lisa's bio here.)
While I write this message as part of the transition, please know that I will continue to be deeply committed to the Cincinnati school, the leadership, and the work of WWf(a)C. I will remain an active and supportive member of the community during and after I leave my ED position. Please join me in welcoming Lisa to this exciting new role, and in celebrating WWf(a)C as we continue to have a positive impact in the world.
With deep gratitude,
Diane
---