Upcoming Events
Two Major Events this Fall!

Roots and Wings: Celebrating 30 Years of
Women Writing for (a) Change
Friday, September 24th
Now a hybrid event!

You may register to attend either in-person, or to attend a
portion of the event virtually, on Zoom.
Join in the fun as we gather on September 24th to celebrate 30 years of
Women Writing for (a) Change! This event will be free of charge, as we come together
to honor what this community and these writing circles mean in our lives.
Join us whether you are a new or a long-time friend!

Details and register here!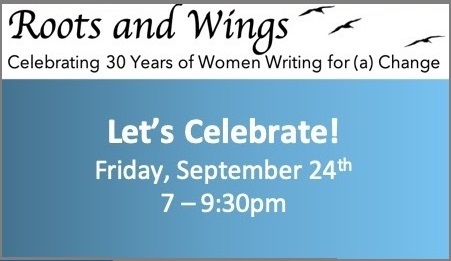 (Bird Image by Gordon Johnson via Pixabay)


Wine, Words & You – Support the Journey!
Saturday, October 23rd

Whether virtual or in-person, this annual fundraising event brings the community and friends together each year for fun, readings, and a silent auction. We will again offer wine information sessions, and tickets that include wine for pick-up or delivery.
Support the Journey of Women Writing for (a) Change at this popular yearly event!
Detailed information & register!