About Young Women Writing for (a) Change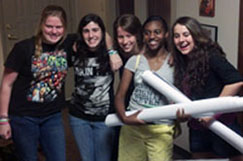 Young Women Writing for (a) Change® programs are designed to strengthen participants' authentic voices, develop their abilities to speak through writing, deepen their belief in their own creative intelligence and enhance their self-esteem.
Writing in a community of their peers, they learn how to give and receive honest feedback and encouragement while building skills in creative self-expression.
"I felt so uplifted and empowered throughout this week."
Program offerings range from one-day workshops to multi-session classes and summer writing camps. All programs focus on topics relevant to young women today and encourage participants to speak out through the art and power of writing.
Our camps are open to young women, girls, and trans and gender nonconforming (TGNC) youth, unless designated as All Gender.
Click here to see our current offerings!
---
What Young Women are saying about YWWf(a)C
"Today was the first time I read any of my writing in a group, but I loved it!"
"I have definitely changed as a writer because of the new techniques I learned. I developed a lot of confidence in what I write and how I feel when I read it."
"YWWf(a)C has helped me write with my heart instead of my hand. When I look inside myself, I am who I am and I love that person."
"Women Writing is the place where I feel I can be completely honest with myself and others."