Podcasts
Sending Forth Words that are Bold and Necessary

From women connecting through the arts to rap singers and art critics, The Podcast Edition brings listeners lively discussions about the intersection of writing and life. Poetry, essays, fiction and even rap, showcases the words of women, young women and men who are inspired by the power of the written and spoken word.
The Podcast Edition is made possible by volunteers
* Phebe Beiser * Antonia Glosby * Jenny Stanton * Carol Stewart *
* Charlene Taylor Bales * Annette Januzzi Wick *
Click here to visit Women Writing for a Change on iTunes
Environmental Racism
Environmental Racism and a Community Fights Back
Olivia Linn
2/23/2016
Host Olivia Linn, interviews Vishal Reddy, Co-Chair of Campus Y committee, HYPE (Helping Youth by Providing Enrichment), about the community's efforts to close a landfill.
Various studies show the physical environment in which kids live and learn has a big impact on their success. The historically Black Rogers Road community in Chapel Hill, NC, provides a poignant case study: a landfill opened there in 1972 has had far-reaching effects on the town's residents. But through a tutoring and mentorship program, the RENA community center is fighting back.
For more information about Campus Y, visit http://campus-y.unc.edu/
Click here to listen to this podcast.
---
Women Breaking Boundaries
Women Breaking Boundaries
Janet Kalven
10/02/2009
Host Kathy Wade, interviews long-tiime member, Janet Kalven, age 96, about her work as a Grail founder, feminist, farmer and writer.
As a young woman living in Chicago, Janet was a student of the Great Books, and soon became involved with the Grail movement which gave birth to Grailville, in southern Ohio. The Grail was known for its mission of women leading women and the assertion that women possessed the leadership qualities that could bring about world peace and justice. Janet shares stories from her book, Women Breaking Boundaries, recounts her days of milking goats and cows while living at Grailville, and opens up about her experience at WWfaC whose "rituals help draw people out of their ordinary dayness and into a deeper realm."
For more information about Grailville or to order Janet's book, "Women Breaking Boundaries", visit www.grailville.org
Click here to listen to this podcast #35
---
Podcast: Memorial for My Mother
Memorial for My Mother
Phebe Beiser
08/12/2008
Mary Pierce Brosmer, founder of Women Writing for (a) Change®, hosts Phebe Beiser, teacher, activist, librarian and writer, as she writes of her pilgrimage to Varanasi, India as a memorial to her mother and chants the "Tvameva Mata". Phebe's words take the listener to goddess temples, the Ganges River and her unabashed advice to "be unique and speak the truth". Throughout her life and now, following the ritual she created to let go of her mother, Phebe proclaims women can be priestesses, gurus and goddesses.
Click here to listen to this podcast #51
---
Loving Mermaids: Memories of Nancy Holbrook, Darla Spicer Watkins and Lynn Goodwin Borgman Host Mar
Loving Mermaids
Kathy Martin Ossege, Jenny Stanton, Joyce Devoge
06/11/2009
Host Mary Pierce Brosmer invites listeners to this special episode of Loving Mermaids: Memories of Nancy Holbrook, Darla Spicer Watkins and Lynn Goodwin Borgman to re-member, returning our lost members to the body of women writers in the Women Writing for (a) Change community.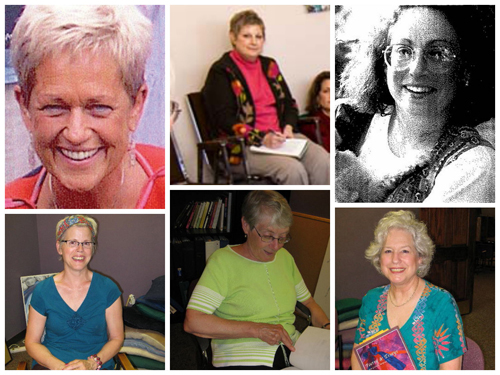 Kathy Martin Ossege reflects on the life of Nancy Holbrook, an artist who loved mermaids, but also a healer who just wanted to "rub feet." After finding WWf(a)C, Nancy stated she had felt transported to another land. With knowledge of self, Nancy rocked the boat with ideas about healing and medicine, while trying to calm and please others. She used words to sweep away depression and lift her to a place where Nancy was free to sing.
Jenny Stanton, a classmate of Darla Spicer Watkins, reads from Darla's work and the writings of Sally Schneider. According to Sally, Darla gave her class the gift of self and faith, openness and love, while she battled cancer and wrote alongside women writers, oxygen tubes and all. In the end, Darla became much more than a classmate, she became a teacher in the art of living.
Joyce DeVoge shares lessons learned from Lynn Borgman, in particular, how Joyce should ask for exactly what she wanted in life (Soul Shoes). Lynn's gift as a fabric artist was equally matched by her writings where her threads followed themes of war and violence against women. Lynn writes of moments of aloneness with the cicadas and how she learned to leave a poem alone.

Click here to listen to this podcast
---
Hope is a Risky Business
Sister Alice Gerdeman
04/06/2011
Sister Alice Gerdeman, a Sister of Divine Providence and coordinator for Cincinnati's Intercommunity Justice and Peace Center. Sister Alice, teacher, advocate and writer, share stories of her upbringing as a teacher and principal, and what called her to work for social justice.
Listeners will hear how one neighborhood saved a community center, which became the home for the IJPC, and will be inspired by Sister Alice's work with immigration reform. The center brings together advocates to support immigrants, as well as supporting the Dream Act, created for children of undocumented workers to remain in the U.S. While recognizing that evil does exist,Sister Alice works tirelessly to eliminate the death penalty in Ohio, so the healing of victims, prisoners and families can begin. Visit the IJPC website for more information on volunteering and programs.

Click here to listen to this podcast #19