Upcoming Events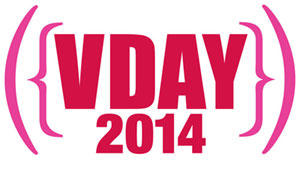 ***Major snowfall hampered our efforts to present WWf(a)C's V-Day event on February 14th. If you missed it, here's good news! We have scheduled a V-Day reprise onMarch 14th and will once again present a staged reading of excerpts from Eve Ensler and Mollie Doyle's A Memory, A Monologue, A Rant and A Prayer. Hope to see you there!***
Please join us on Friday March 14, 2014
as local women present a staged reading of
A MEMORY, A MONOLOGUE, A RANT AND A PRAYER
at Women Writing for (a) Change
6906 Plainfield Road, Cincinnati
Doors open at 6:30 ~ readings start at 7:00 pm
V-Day is a global activist movement to stop violence against women and girls.
---
Macy's Art Sampler
Women Writing for (a) Change is on the list of arts organizations involved in the Macy's Arts Sampler weekends!
Join us on Saturday, March 15, 11am-4pm for an Open House, in conjunction with the city-wide Macy's Arts Sampler! We will have a variety of sampler classes including girls', women, and co-ed circles. Tour our beautiful building, meet some of our facilitators, and enjoy refreshments in our open and inviting community!
---
A Community of Stories
WWf(a)C will be teaming up with The Mayerson Foundation and the School for Creative and Performing Arts to provide an extraordinary service learning opportunity for high school aged writers. Together with a group of social service agencies, we will be coming together the weekend of March 22nd and 23rd, to write and learn together. Registration dealine extended to February 28, 2014.
Up to 150 students from all over the Cincinnati area will be accepted into this free weekend event, on a first come first served basis.
Click here for more information
---
Salons at WWf(a)C - Sponsored by Women's Way of OH/KY
Friday, March 21, 2014
6:30-8:30pm
We welcome Krista Detor for her Thank You Cincinnati CD release!
Sunday March 30, 2014
1:00-8:00pm
Join us as we celebrate SWAN Day! – 1-8pm.
Salons typically occur on the first and third Friday OR Saturday with lively discussion, good food, and interesting activities. Salons are a great way to meet new people, share ideas, and learn new information. Salons typically include a Potluck at 6:30PM and Salon discussion/performance at 7PM. Suggested donations $5. RSVP via email to womensway@ymail.com or call 513-923-1414